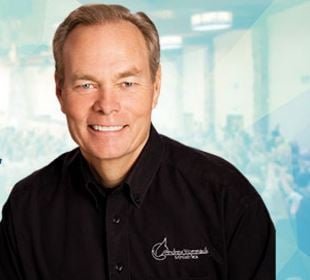 Andrew Wommack Devotional 24 December 2021 – We Are Only Complete In Christ
Click HERE for Previous Devotional
Topic: We Are Only Complete In Christ
John 20:31 "But these are written, that ye might believe that Jesus is the Christ, the Son of God; and that believing ye might have life through his name."
Recognition of our completeness in Christ is a tremendous safeguard against deception. Prior to salvation we are incomplete and constantly strive to satisfy our hunger. But through the new birth, we are complete in Christ and our hunger should only be for more revelation of what we already have in Christ. Total satisfaction with Christ disarms Satan's lies. A big part of all temptation is dissatisfaction.
Adam and Eve would not have eaten of the forbidden fruit if they hadn't been made dissatisfied with what they had. Through Satan's lie they were led to believe that they didn't have it all (Gen. 3:5). The truth is, they did have it all. They were more like God before they ate of the fruit than after they ate the fruit. Their dissatisfaction was a preliminary step to their action of sin.
Satan tempts us in the same way he came against Adam and Eve (2 Cor. 11:3).
Therefore, a full revelation of our completeness in Christ will keep us from chasing after all the things the devil has to offer. If anyone tells you that Christ isn't enough; that you need something more, then that's the devil trying to turn you away from your completeness in Christ.
In the same way that Jesus has the fullness of God in Him, we have the fullness of Christ in us. That makes us complete or perfect in Him – that is our spiritual man. Our born-again spirit is identical in righteousness, authority, and power to Christ's spirit because our born-again spirit is the Spirit of Christ (Rom. 8:9) which has been sent into our hearts crying "Abba Father" (Gal. 4:6).
This message was written by The Association of Related Ministries International (ARMI) is an extension of Andrew Wommack Ministries (AWM). ARMI is a unique partnership committed to providing resources to help like-minded ministers succeed in a spirit of excellence and to draw from the experience and expertise of both the AWM and Charis Bible College staff. (www.awmi.net).
Flatimes Notice Board: Until you are born again, God ever abiding presence will never be with you. You must be born again to enjoy continuous victory. Please say the displayed prayer below in faith:
Lord Jesus, come into my life. I accept You as my Lord and Personal Saviour. I believe in my heart You died and rose from the dead to save me. Thank You Lord for saving me, in Jesus name Amen.
If you just prayed the prayer of salvation online please send your testimonies and prayer request to info@awmi.net, 1-719-635-1111.