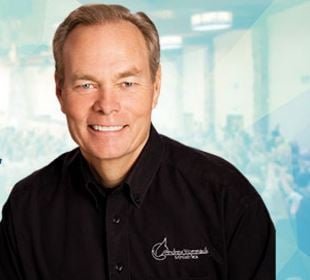 Andrew Wommack Devotional 9 May 2023 – Self Seeking Not God Seeking
Click HERE for Previous Devotional
Topic: Self Seeking Not God Seeking
John 6:26, 'Jesus answered them and said, Verily, verily, I say unto you, Ye seek me, not because ye saw the miracles, but because ye did eat of the loaves, and were filled.'
Matthew 14:34-36; Mark 6:53-56; John 6:22-39
Jesus knew the hearts of all men and therefore, He did not commit Himself to this crowd. Just the day before, these same people tried to take Him by force and make Him their king, but He withdrew and spent the night in prayer.
This crowd looked like they were seeking Jesus, but they were actually trying to use Jesus to seek their own end. It is true that there are many personal benefits to be reaped through serving the Lord, but the benefits are never to become our object. In all things, Christ must have the preeminence (Col. 1:18).
Jesus exposed the true intentions of the people's hearts by preaching a strong message of commitment. Those who were self-centered were offended and left while those who were willing to lay down their lives to experience God's abundant life remained. Commitment to God Himself (not what He can produce) is what always separates the true worshippers of God from the false.
As Jesus began to explain in these verses that He was the only way to the Father (Jn. 14:6) and that they would have to come through Him, the people grew angry. It always angers the flesh to think that all our righteous acts can't save us, but Jesus made it clear that our only part in salvation is to believe. Believe what? Believe on Jesus and His sacrifice – not ours. Salvation is a gift and cannot be purchased (Rom. 10:2-3).
Many times, we get so intent on seeking God in one area that we forget the greatest miracle of all, which is the love and redemption given to us from God through His Son. God loves us so much!
This message was written by The Association of Related Ministries International (ARMI) is an extension of Andrew Wommack Ministries (AWM). ARMI is a unique partnership committed to providing resources to help like-minded ministers succeed in a spirit of excellence and to draw from the experience and expertise of both the AWM and Charis Bible College staff. (www.awmi.net).
Flatimes Notice Board: Until you are born again, God ever abiding presence will never be with you. You must be born again to enjoy continuous victory. Please say the displayed prayer below in faith:
Lord Jesus, come into my life. I accept You as my Lord and Personal Saviour. I believe in my heart You died and rose from the dead to save me. Thank You Lord for saving me, in Jesus name Amen.
If you just prayed the prayer of salvation online please send your testimonies and prayer request to info@awmi.net, 1-719-635-1111.