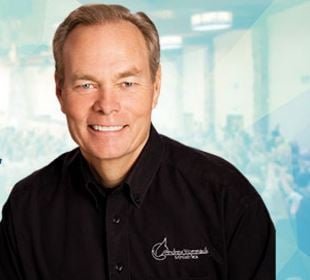 Andrew Wommack Devotional 25 May 2023 – Petition Not Repetition
Click HERE for Previous Devotional
Topic: Petition Not Repetition
Mark 8:24-25, 'And he looked up, and said, I see men as trees, walking. After that he put his hands again upon his eyes, and made him look up: and he was restored, and saw every man clearly.'
Matthew 7:7-11; Mark 8:22-25
It was unusual for Jesus to inquire about the results of His ministry as He did in verse 23. It was even more unusual that Jesus laid hands on this man a second time. This is the only example in the New Testament where Jesus had to minister to any need more than once to affect a total healing.
Many people request things from God and then look at their circumstances to see if God answered their prayer. That is walking by sight and not by faith. If they can't 'see' God's answer, then they pray again asking for the same thing. This is not the way Jesus taught us to pray and receive. We can be certain that Jesus didn't lay hands on this man a second time because He thought His Father hadn't heard Him the first the time. Since the man received partial sight, it is evident that God's healing power was at work in him. Jesus was not petitioning His Father again for healing.
Through His spirit, Jesus knew that unbelief was hindering a perfect manifestation of God's power in this man, and He simply gave him another 'dose' of the anointing power of God. Satan may hinder, but cannot overcome someone who continues resisting him. Believe that you received when you prayed and continue to apply the power of God. Press in such a degree that you can confront anything that is contrary to what you have asked and overcome it. Perseverance in prayer is the key to overcoming Satan – not God.
This message was written by The Association of Related Ministries International (ARMI) is an extension of Andrew Wommack Ministries (AWM). ARMI is a unique partnership committed to providing resources to help like-minded ministers succeed in a spirit of excellence and to draw from the experience and expertise of both the AWM and Charis Bible College staff. (www.awmi.net).
Flatimes Notice Board: Until you are born again, God ever abiding presence will never be with you. You must be born again to enjoy continuous victory. Please say the displayed prayer below in faith:
Lord Jesus, come into my life. I accept You as my Lord and Personal Saviour. I believe in my heart You died and rose from the dead to save me. Thank You Lord for saving me, in Jesus name Amen.
If you just prayed the prayer of salvation online please send your testimonies and prayer request to Toll-Free: 1-877-2GRAHAM (1-877-247-2426) Local: 1-704-401-2432.