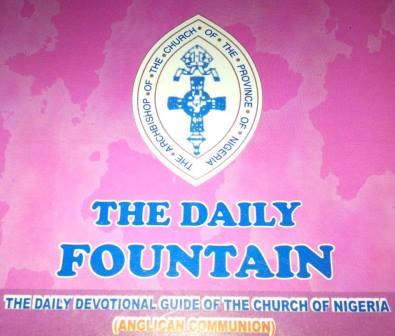 The Daily Fountain Daily Devotional of the Church Of Nigeria (Anglican Communion) 22 October 2020 – God, The Righteous Judge!
Click HERE to Read Previous MESSAGES
Topic: God, The Righteous Judge!
Read: Psalm 7 (NKJV)
A Meditation of David, which he sang to the LORD concerning the words of Cush, a Benjamite.
O LORD my God, in You I put my trust; Save me from all those who persecute me; And deliver me,
Lest they tear me like a lion, Rending [me] in pieces, while [there is] none to deliver.
O LORD my God, if I have done this: If there is iniquity in my hands,
If I have repaid evil to him who was at peace with me, Or have plundered my enemy without cause,
Let the enemy pursue me and overtake [me;] Yes, let him trample my life to the earth, And lay my honor in the dust. Selah
Arise, O LORD, in Your anger; Lift Yourself up because of the rage of my enemies; Rise up for me [to] the judgment You have commanded!
So the congregation of the peoples shall surround You; For their sakes, therefore, return on high.
The LORD shall judge the peoples; Judge me, O LORD, according to my righteousness, And according to my integrity within me.
Oh, let the wickedness of the wicked come to an end, But establish the just; For the righteous God tests the hearts and minds.
My defense [is] of God, Who saves the upright in heart.
God [is] a just judge, And God is angry [with the wicked] every day.
If he does not turn back, He will sharpen His sword; He bends His bow and makes it ready.
He also prepares for Himself instruments of death; He makes His arrows into fiery shafts.
Behold, [the wicked] brings forth iniquity; Yes, he conceives trouble and brings forth falsehood.
He made a pit and dug it out, And has fallen into the ditch [which] he made.
His trouble shall return upon his own head, And his violent dealing shall come down on his own crown.
I will praise the LORD according to His righteousness, And will sing praise to the name of the LORD Most High.
THE MESSAGE:
In our earthly courts, anything can happen, but in God's judgment, justice, equity and righteousness will always prevail. St Paul said, "It is the Lord who judges me" (1 Corinthians 4:4), truth will triumph over falsehood.
From our reading today, unrepentant sinners have been condemned already. God's judgment will reveal our true colour – the secrets of men and hidden things of darkness. Things done while living in this world all will be accounted for. David made it clear that God is the righteous Judge; He tries even the minds and hearts. In His judgment, God will be a swift witness against the sorcerers, adulterers, sodomites, liars, idol worshippers, murderers, the unclean, homosexuals and oppressors. "Woe to him that strives with his Maker" (Isaiah 45:9)
God's judgment will be based on the Law of conscience (Romans 2:14-16); the Law of memory (Luke 16:25); the Law of Moses (Romans 2:12-13); the Law of character (II Corinthians 5:10; Revelation 20:12-13); the gospel (John 12:47-48); all Acts and Words (Matthew 12:36, Luke 12:2-3, Jude 14-16) and The Book of Life (Revelation 20:11-15).
Do not forget that judgment will begin with the household of God (II Peter 4:17-18). Now is the day of salvation, believe in Jesus and turn to God to save you from the horrors of the day of doom.
PRAYER: God grant us grace to be found worthy in Your faithfulness in Jesus' Name.