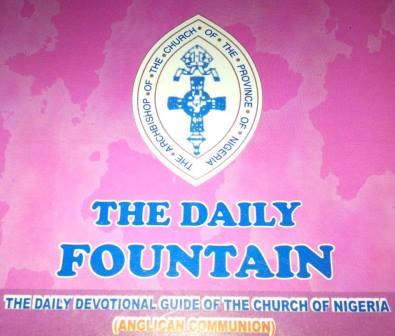 The Daily Fountain Daily Devotional of the Church Of Nigeria (Anglican Communion) 26 August 2020 – We Have Been Made Kings And Priests!
Click HERE to Read Previous MESSAGES
TOPIC: We Have Been Made Kings And Priests!
Read: Zechariah 6:11-15 (NKJV)
"Take the silver and gold, make an elaborate crown, and set [it] on the head of Joshua the son of Jehozadak, the high priest.
"Then speak to him, saying, 'Thus says the LORD of hosts, saying: "Behold, the Man whose name [is] the BRANCH! From His place He shall branch out, And He shall build the temple of the LORD;
Yes, He shall build the temple of the LORD. He shall bear the glory, And shall sit and rule on His throne; So He shall be a priest on His throne, And the counsel of peace shall be between them both." '
"Now the elaborate crown shall be for a memorial in the temple of the LORD for Helem, Tobijah, Jedaiah, and Hen the son of Zephaniah.
"Even those from afar shall come and build the temple of the LORD. Then you shall know that the LORD of hosts has sent Me to you. And [this] shall come to pass if you diligently obey the voice of the LORD your God."
THE MESSAGE:
Zechariah was commanded by the Lord to collect silver and gold from some of the exiles that came from Babylon and make the elements into a crown for the coronation of the high priest, Joshua, the son of Jehozadak (verses 6:9-11). This action indicated that Joshua would both serve as a priest and function as king. This event foreshadows the priestly and kingly (Messianic) role of the Branch, the Davidic king-Jesus Christ.
Jesus Christ is our High Priest, pleading and interceding for us before the Father as a priest does when he leads his people or congregation before God in confession, intercession and teaching. As a king, He rules in the heart of His children and He will eventually put an end to the evil kingdom of this world when He comes back. Then, He will continue to rule as king eternally among His saints (2 Thessalonians 1:6-10). Since Christ, 'the Branch', is both our High Priest and King and has made us His followers a kingdom of priests and kings, then as we lead people to God through the preaching of the Gospel, we need to exercise the authority He has given us by smashing and destroying all the works of darkness through the power of prayer (Jeremiah 1:1-10; Luke 4:18-19).
PRAYER: Father, let every evil force militating against Your kingdom in my heart and Your purpose for my life be destroyed today by the Blood of Jesus.