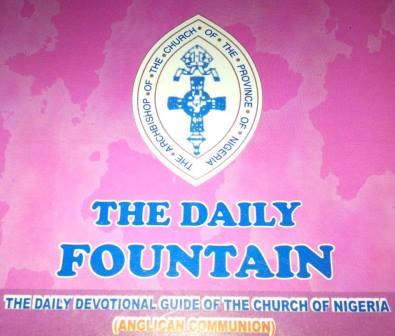 The Daily Fountain Devotional of the Church Of Nigeria (Anglican Communion) 2 December 2021 – God Still Hates Idols!
Click HERE to Read Previous MESSAGES
TOPIC: God Still Hates Idols!
READ: Micah 1:1-7 (NKJV)
The word of the LORD that came to Micah of Moresheth in the days of Jotham, Ahaz, [and] Hezekiah, kings of Judah, which he saw concerning Samaria and Jerusalem.
Hear, all you peoples! Listen, O earth, and all that is in it! Let the Lord GOD be a witness against you, The Lord from His holy temple.
For behold, the LORD is coming out of His place; He will come down And tread on the high places of the earth.
The mountains will melt under Him, And the valleys will split Like wax before the fire, Like waters poured down a steep place.
All this is for the transgression of Jacob And for the sins of the house of Israel. What [is] the transgression of Jacob? [Is it] not Samaria? And what [are] the high places of Judah? [Are they] not Jerusalem?
"Therefore I will make Samaria a heap of ruins in the field, Places for planting a vineyard; I will pour down her stones into the valley, And I will uncover her foundations.
All her carved images shall be beaten to pieces, And all her pay as a harlot shall be burned with the fire; All her idols I will lay desolate, For she gathered [it] from the pay of a harlot, And they shall return to the pay of a harlot."
THE MESSAGE:
One of the issues that the Holy Scripture does not "mince words" about is that God hates idolatry. What is idolatry? It is when we give more attention or affection to anything or anyone other than the Lord God Almighty. God wants His people to relate to Him as the Ultimate in all things – the All-Sufficient! Unfortunately, the people of Israel, the chosen people, did not want to relate with God this way. Instead of holding faithfully on to God, they rather chose to prostitute themselves with other gods created by human hands. Therefore, the anger of the Lord was kindled against His own people.
For some of us today, that is the description of our lifestyles – we are spiritual prostitutes! Most of our attention, time and resources are channeled towards other things rather than God. If you consider your relationship with God more as an extra-curricular affair, then you are an idolater! And this is what many of us are. We only give God attention when we have finished all the things we consider important and then we are left with some spare time, energy and resources. If you fall into this category, God wants you to repent and return to your "first love" (Revelation 2:4&5). God deserves nothing less than the best from us.
PRAYER: Lord, I repent of my idolatrous lifestyle. Give me grace to make You my primary focus.