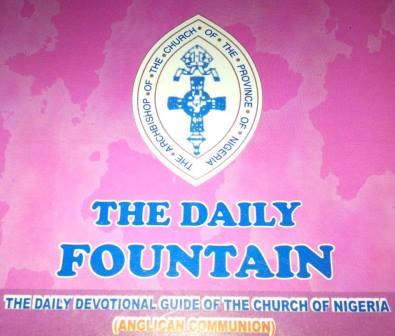 The Daily Fountain Devotional of the Church Of Nigeria (Anglican Communion) 2 February 2022 – The Human Nature Of Christ
Click HERE to Read Previous MESSAGES
TOPIC: The Human Nature Of Christ
READ: Hebrews 2:14-18 (NKJV)
Inasmuch then as the children have partaken of flesh and blood, He Himself likewise shared in the same, that through death He might destroy him who had the power of death, that is, the devil,
and release those who through fear of death were all their lifetime subject to bondage.
For indeed He does not give aid to angels, but He does give aid to the seed of Abraham.
Therefore, in all things He had to be made like [His] brethren, that He might be a merciful and faithful High Priest in things [pertaining] to God, to make propitiation for the sins of the people.
For in that He Himself has suffered, being tempted, He is able to aid those who are tempted.
THE MESSAGE:
Jesus Christ is the eternal God – the Messiah "Who took on human nature of flesh and blood (John 1:14). This was to save mankind from their sins. Jesus did not give up his oneness with God; He became a human being without committing sin. He took on complete human personality – a new nature while remaining God. He was fully God and fully human (Philippians 2:6-7).
Jesus' death on the cross paid the penalty for our sins. Without His coming, humanity will not have a Saviour. He came and dwelt among us in order to be a partaker of our human frailty but He did not sin. Jesus came to reveal God to humanity (John 1:18, 14:9); to fulfill God's promise and the prophecy of men of God; to fulfill the Law of Moses; to bring a new covenant into existence and to destroy the works of the devil (1 John 3:8); to judge the world righteously and to help those who are tempted; to be an example of believers and to prepare the world for a heavenly destiny (John 14:1-13). Since Jesus has done all these and more for us, it is our duty then to live for Him as a living sacrifice.
PRAYER: Thank You Father for sending Your only begotten Son to save us from sin. Help us to live for You always that we may dwell with You eternally in heaven. Amen.