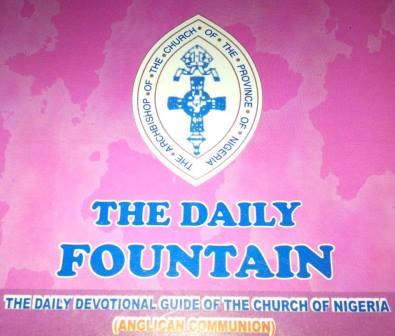 The Daily Fountain Devotional of the Church Of Nigeria (Anglican Communion) 20 December 2020 – Saved To Serve Others
Click HERE to Read Previous MESSAGES
Topic: Saved To Serve Others
Read: Romans 1:1-7 (NKJV)
Paul, a bondservant of Jesus Christ, called [to be] an apostle, separated to the gospel of God
which He promised before through His prophets in the Holy Scriptures,
concerning His Son Jesus Christ our Lord, who was born of the seed of David according to the flesh,
[and] declared [to be] the Son of God with power according to the Spirit of holiness, by the resurrection from the dead.
Through Him we have received grace and apostleship for obedience to the faith among all nations for His name,
among whom you also are the called of Jesus Christ;
To all who are in Rome, beloved of God, called [to be] saints: Grace to you and peace from God our Father and the Lord Jesus Christ.
THE MESSAGE:
Today, Paul introduces himself as a servant of Jesus Christ, set apart for the gospel. He meant that he had separated himself for God's service. The Old Testament Prophets prophesied about this gospel of a suffering Messiah for the salvation of mankind and as a sure proof, God confirmed Jesus as the Messiah by raising Him from the dead.
Paul committed his whole life to preaching the gospel; he also reminded the Romans that they too were called to witness to this faith (verse 6). The grace of salvation to believers is to, "call people from among all the gentiles to the obedience that comes from faith" (verse 5). It is the duty of the saved to preach the gospel. We are saved to serve others. Like Paul, all believers must be ready to put the world behind them and preach the gospel willingly and support this course without compulsion. As living saints, we are called out of darkness of sin into His marvellous light. We are duty bound to proclaim the praises of God (1 Peter 2:9).
PRAYER: Lord Jesus, grant me grace to preach the gospel in and out of season. Amen!