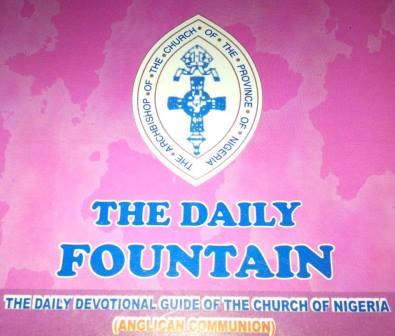 The Daily Fountain Devotional of the Church Of Nigeria (Anglican Communion) 25 September 2021 – Persevere!
Click HERE to Read Previous MESSAGES
TOPIC: Persevere!
READ: Romans 5:1-11 (NKJV)
Therefore, having been justified by faith, we have peace with God through our Lord Jesus Christ,
through whom also we have access by faith into this grace in which we stand, and rejoice in hope of the glory of God.
And not only [that,] but we also glory in tribulations, knowing that tribulation produces perseverance;
and perseverance, character; and character, hope.
Now hope does not disappoint, because the love of God has been poured out in our hearts by the Holy Spirit who was given to us.
For when we were still without strength, in due time Christ died for the ungodly.
For scarcely for a righteous man will one die; yet perhaps for a good man someone would even dare to die.
But God demonstrates His own love toward us, in that while we were still sinners, Christ died for us.
Much more then, having now been justified by His blood, we shall be saved from wrath through Him.
For if when we were enemies we were reconciled to God through the death of His Son, much more, having been reconciled, we shall be saved by His life.
And not only [that,] but we also rejoice in God through our Lord Jesus Christ, through whom we have now received the reconciliation.
THE MESSAGE:
Our faith gives us access into the grace which brings us justification – we are now in right standing with God! We receive and have peace. Thus, we who were sinners has God called saints because we believed: but much more than that, we shall be saved from eternal death because Jesus was raised unto life and thus, we shall live also. So we glory in the hope of this resurrected life even though our earthly sojourn brings tribulation because of its fallen state.
However, through such suffering, our faith is made stronger as we earnestly wait for the hope of the glory of God which is eternal life. But these were all brought only by Christ's atonement – a graceful act done for those who do not merit it! So we are not ashamed to proclaim our salvation and the hope of glory because we know the love of God that saved us. Therefore, persevere in spite of what you are going through!
PRAYER:
Through the changing tides of life, I hold on to You. And Lord, when my hands are weakened, please hold me through so that I shall never be severed from You. Amen.