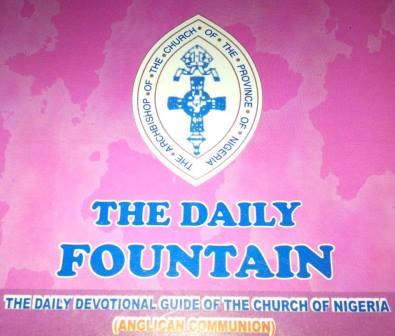 The Daily Fountain Devotional of the Church Of Nigeria (Anglican Communion) 26 January 2022 – God Is Dependable
Click HERE to Read Previous MESSAGES
TOPIC: God Is Dependable
READ: Titus 1:1-5 (NKJV)
Paul, a bondservant of God and an apostle of Jesus Christ, according to the faith of God's elect and the acknowledgment of the truth which accords with godliness,
in hope of eternal life which God, who cannot lie, promised before time began,
but has in due time manifested His word through preaching, which was committed to me according to the commandment of God our Savior;
To Titus, a true son in [our] common faith: Grace, mercy, [and] peace from God the Father and the Lord Jesus Christ our Savior.
For this reason I left you in Crete, that you should set in order the things that are lacking, and appoint elders in every city as I commanded you.
THE MESSAGE:
Today, Apostle Paul reminds us of one of the attributes of God in verse 2 of our text, wherein, he says "… in hope of eternal life which God, who cannot lie, promised before time began…" In Hebrew 6:18, we are reminded that "… it is impossible for God to lie… " In our text Apostle, Paul also reminded us of the promise of God on eternal life. The link is absolutely important. God made a promise to give eternal life to all that believe in Him and receive His Son Jesus Christ (John 3:16). Our acceptance or belief in His word is built on the faithfulness of God who cannot lie. His word is yes and amen.
It is equally on this note that God desires us to cultivate this character so that we will live as His children. He says "But let your yes be simply "yes" and your "no", be simply "no", lest you fall into judgment (James 5:12). In the same vein, our Lord Jesus Christ admonished us in Matthew 5:37, "But let your "yes" be "yes" and your "no", no, 'for whatever is more than these is from the evil one." God demands that in all our relationship with Him and with each other we must show honesty, integrity and firmness in upholding the truth.
PRAYER: Lord, grant us the grace to attain Your character of honesty in our relationship with You and our fellow men that our lives will bring glory to Your holy name. Amen.