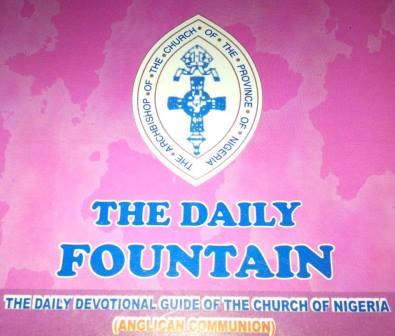 The Daily Fountain Devotional of the Church Of Nigeria (Anglican Communion) 9 December 2020 – Fake Excuses!
Click HERE to Read Previous MESSAGES
Topic: Fake Excuses!
Read: Exodus 4:10-17 (NKJV)
Then Moses said to the LORD, "O my Lord, I [am] not eloquent, neither before nor since You have spoken to Your servant; but I [am] slow of speech and slow of tongue."
So the LORD said to him, "Who has made man's mouth? Or who makes the mute, the deaf, the seeing, or the blind? [Have] not I, the LORD?
"Now therefore, go, and I will be with your mouth and teach you what you shall say."
But he said, "O my Lord, please send by the hand of whomever [else] You may send."
So the anger of the LORD was kindled against Moses, and He said: "Is not Aaron the Levite your brother? I know that he can speak well. And look, he is also coming out to meet you. When he sees you, he will be glad in his heart.
"Now you shall speak to him and put the words in his mouth. And I will be with your mouth and with his mouth, and I will teach you what you shall do.
"So he shall be your spokesman to the people. And he himself shall be as a mouth for you, and you shall be to him as God.
"And you shall take this rod in your hand, with which you shall do the signs."
THE MESSAGE:
Today again, Moses tried his best to evade the call of God upon him and to avoid being sent to do the duty God wanted him to do. He therefore disqualified himself by saying that he was not eloquent, but slow of speech and slow of tongue. God rejected all the excuses.

In our time, some people use fake excuses and selfish reasons to dodge the call and will of God for their lives and to frustrate the demands of God upon them. Some Christians fail to go to church for reasons of pressure of work. Some who don't give to God claim that economy is bad, yet they pay their rents, feed well, train their children and execute huge projects. The truth is that human beings pay more attention to the things they value more. Check deep down your heart and see whether your reasons are fake or genuine.
In response to Moses' evasive excuse, God in verse 11 asked him "Who has made man's mouth? Or who makes the mute, the deaf, the seeing or the blind? God actually made them all, and He can make them function any way He desires. Here, we see that God is more interested in our willingness to serve Him than in our ability to serve Him. No matter how weak we are, God will make His strength perfect in our weakness and use us if we are willing (2 Corinthians 12:9). Whenever we are willing to serve God, He will turn our weakness to strength and our foolishness to wisdom. Decide now to answer the call of God and He will give you peace and strength.
PRAYER: All to Jesus I surrender! God please accept my life, my soul, my money, my knowledge and my all.