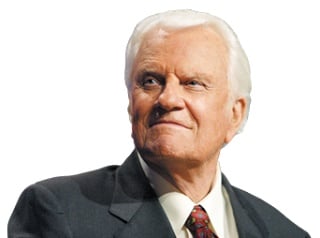 Billy Graham Devotional 25 June 2022 – True Happiness
Click HERE for Previous Devotional
Topic: True Happiness
And the Lord said, Who then is that faithful and wise steward . . . — Luke 12:42
It is not wrong for men to possess riches. But the Bible warns that money cannot buy happiness! Money cannot buy true pleasure. Money cannot buy peace of heart. And money certainly cannot buy entrance into the Kingdom of God. Often money is a hindrance to these things. Money takes our minds off God. Riches, when used selfishly rather than for the glory of God, tend to corrupt in our hands. Money cannot be a substitute for God. If God has given you more wealth than your neighbors, dedicate it to Christ. Realize that you are only a steward of that which God has given you and some day you will have to give an account of every penny you have spent. The Internal Revenue Service wants a record of how you spend your money, but that is nothing compared to the books God is keeping.
Prayer for the day:
Father, I would be a faithful steward of all You have given to me. Make me constantly aware of Your leading so I may wisely spend any money with which I have been entrusted.
Written by Billy Graham, Founder of Billy Graham Evangelistic Association (BGEA). BGEA exists to proclaim the Gospel of Jesus Christ by every effective means and to equip the church and others to do the same.
Flatimes Notice Board: Until you are born again, God ever abiding presence will never be with you. You must be born again to enjoy continuous victory. Please say the displayed prayer below in faith:
Lord Jesus, come into my life. I accept You as my Lord and Personal Saviour. I believe in my heart You died and rose from the dead to save me. Thank You Lord for saving me, in Jesus name Amen.
If you just prayed the prayer of salvation online please send your testimonies and prayer request to Toll-Free: 1-877-2GRAHAM (1-877-247-2426) Local: 1-704-401-2432.