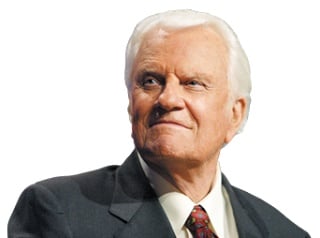 Billy Graham Devotional 27 June 2022 – Who Am I?
Click HERE for Previous Devotional
Topic: Who Am I?
What a glorious Lord! He who daily bears our burdens also gives us our salvation. — Psalm 68:19 (TLB)
Edward Dahlberg, the writer, observed, "At 19, I was a stranger to myself. At 40, I asked, 'Who am I?' At 50, I concluded I would never know." This unexplored personal wilderness is the home of millions of people. Ninety-two percent of all Canadian university students, according to June Callwood, the Toronto sociologist, don't really know who they are. The Bible says that man is an immortal soul. When God made man in the first place, He created him and "breathed into his nostrils the breath of life; and man became a living soul" (Genesis 2:7). One's soul is the essence, the core, the eternal and real person. And he will be restless until he opens his life to Jesus Christ as Savior and Lord.
Prayer for the day:
Almighty God, knowing I am Your child is all the assurance I need.
Written by Billy Graham, Founder of Billy Graham Evangelistic Association (BGEA). BGEA exists to proclaim the Gospel of Jesus Christ by every effective means and to equip the church and others to do the same.
Flatimes Notice Board: Until you are born again, God ever abiding presence will never be with you. You must be born again to enjoy continuous victory. Please say the displayed prayer below in faith:
Lord Jesus, come into my life. I accept You as my Lord and Personal Saviour. I believe in my heart You died and rose from the dead to save me. Thank You Lord for saving me, in Jesus name Amen.
If you just prayed the prayer of salvation online please send your testimonies and prayer request to Toll-Free: 1-877-2GRAHAM (1-877-247-2426) Local: 1-704-401-2432.