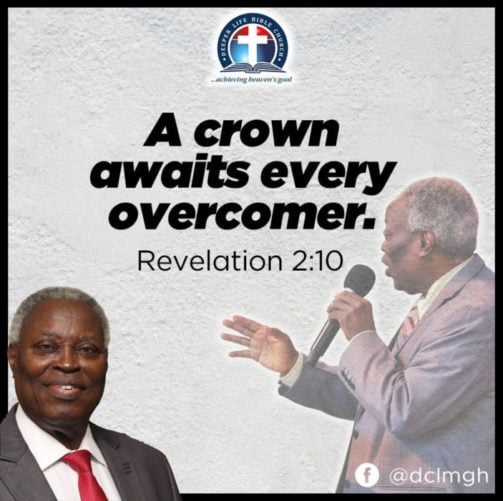 Cleansing The Church Of Contagious Corruption By Pastor W.F. Kumuyi
Click HERE for Previous MESSAGES by Pastor Kumuyi
TUESDAY LEADERSHIP DEVELOPMENT MESSAGE
DATE: JULY 14, 2020
PREACHER: PASTOR W.F. KUMUYI
TOPIC: CLEANSING THE CHURCH OF CONTAGIOUS CORRUPTION
TEXT: REVELATION 2:18-29
Tonight, we have come together once again in our leadership development session and as you know, we have been going through the letters, epistles of the Lord Jesus Christ to the head of the seven churches, to each of the angel, leaders and ministers of the churches. Today, we are coming to church No 4. We have already treated the messages to the churches in Ephesus, Smyrna and Pergamos, now we are coming to the church in Thyatira.
18 And unto the angel of the church in Thyatira write; These things saith the Son of God, who hath his eyes like unto a flame of fire, and his feet are like fine brass;
19 I know thy works, and charity, and service, and faith, and thy patience, and thy works; and the last to be more than the first.
20 Notwithstanding I have a few things against thee, because thou sufferest that woman Jezebel, which calleth herself a prophetess, to teach and to seduce my servants to commit fornication, and to eat things sacrificed unto idols.
21 And I gave her space to repent of her fornication; and she repented not.
22 Behold, I will cast her into a bed, and them that commit adultery with her into great tribulation, except they repent of their deeds.
23 And I will kill her children with death; and all the churches shall know that I am he which searcheth the reins and hearts: and I will give unto every one of you according to your works.
24 But unto you I say, and unto the rest in Thyatira, as many as have not this doctrine, and which have not known the depths of Satan, as they speak; I will put upon you none other burden.
25 But that which ye have already hold fast till I come.
26 And he that overcometh, and keepeth my works unto the end, to him will I give power over the nations:
27 And he shall rule them with a rod of iron; as the vessels of a potter shall they be broken to shivers: even as I received of my Father.
28 And I will give him the morning star.
29 He that hath an ear, let him hear what the Spirit saith unto the churches.
When the Lord wrote to this church, He commended them about their work, service and all that they were doing after introducing Himself. They appeared to be making progress and doing more than they ever did, nevertheless, the Lord had somewhat against them. The Lord told the minister what He had against them and gave them a word of counsel: what to do with those who were standing and those who were compromising.
That is the same message the Lord is sending to us today and it is titled: CLEANSING THE CHURCH OF CONTAGIOUS CORRUPTION and it is divided into three parts:
A. THE DECLARATION AND PERFECTION OF CONQUERING CHRIST. Revelation 2:18-19
Christ conquered on the cross of Calvary, He conquered the grave and rose triumphantly. He appeared to His own disciples through many infallible proofs to prove He was the Christ who died, who was buried and rose again. After forty days, He was taken to heaven without the help of any aircraft. He conquered, ascended into heaven and is now seated on the right hand of majesty on high.
The Divinity Of Christ As The Son Of God. Revelation 2:18
It is going to be interesting to us to know that this is the only place where this title, "the Son of God" appeared in the book of Revelation. In other places, Christ is the Son of man. Why did He call Himself the Son Of God? Because of His divinity (John 5:25 Verily, verily, I say unto you, The hour is coming, and now is, when the dead shall hear the voice of the Son of God: and they that hear shall live). No prophet of the Old Testament or apostle in the New Testament could have said that. Only the Son of God, because of His divinity could say so.
vs 26-27. As the Father has life in Himself, He also gave life to the Son, as well as power and great authority to execute judgment. He is the Son of God and also the Son of man (Hebrews 4:14) He is our High Priest sitting at the right hand of power and glory on high (ch 7:3) He has no beginning and end (I John 3:8; 5:18-20) The Son of God was manifested to destroy the works of the devil. He is the Eternal One, Emmanuel, God with us. He has final and unchallengeable, total, universal and eternal dominion.
The Dominion Of Christ As The Sword Of God. Revelation 2:18; 1:14-15
For you to understand the implication of the divinity of Christ, He described His eyes as fiery fire, and His feet as made of fine brass (Daniel 7:9-10; 13-14) Christ was brought near the Ancient of days, that is, God the Father, and dominion was given to Him: our Christ, Captain, Conqueror, the Captain of our salvation, the Origin of eternity.
All people and languages will serve Him, He has an everlasting dominion which shall not pass away. He is going to be the final power and authority because He is the final Judge (Acts 17:31; II Thessalonians 1:7) Any problem, difficulty, emotional challenges? Whatever it is, rest with us. When the Lord will come again, He will take vengeance on all who are not obedient to the gospel of grace, peace and righteousness.
The Discernment Of Christ, The Searchlight Of God. Revelation 2:19
He is the Son, Sword and Searchlight of God. He knows all things just like God the Father. He is the same yesterday, today and forever. He knows our activities, works, motives and directions.
The angel in Thyatira is gone, it is our turn now. Are you doing all that you should do? Evangelizing, witnessing, counseling, interceding? Are you serving God and humanity without discrimination? Are you serving from the heart or with eye service? Christ knows our faith, the one who brought us into salvation and relationship with God. The faith that will remain standing and will not be distracted.
The Lord knows our patience. The Lord wants us to be patient with our members. When in persecution, difficult circumstances and situations, are you patient? Patience should begin at home. Are you patient with your wives, husbands, children, workers, neighbours? Do you get angry and furious when things do not go your way?
The Lord says He knows our works. Do you know your own works? Are you doing something for the Lord? As for this angel in Thyatira, his last works were more than the first. This is very good and you too should love this. Generally, people slow down when they grow older, after they have worked for years. God expects that as we grow, we have more knowledge, grace, perseverance, strength and purpose. He should be able to say the same thing about us.
Jeremiah 17:9-10. At times, your heart will congratulate you even when you are doing the wrong things. God knows our hearts and we cannot hide anything from Him (Jeremiah 23:23-24) God knows everything everywhere to the remotest part of the earth. He knows everything in every generation, He knows everything about us and our family, all things anywhere. He knows the good and the bad, the hidden and the open, the commendable and contemptible things (John 16:30; 21:17) God knows everything and the disposition of the hearts, all things in secret and in the open. The Lord asked Peter if he loved Him, and Peter replied and said the Lord knows all things (Hebrews 4:12-13) All things are open and naked, plain, clear, revealed and open in and outside the church to the eyes of Him with whom we have to do. Who is this? Christ, the Son of God, who have divinity, dominion and discernment.
B. THE DEFILEMENT AND POLLUTION BY CONTAGIOUS CORRUPTERS. Revelation 2:20-23
There was a corrupter in the church in Thyatira and she did not stand alone. After being corrupted by the devil, she went on to defile other people. So we see that corruption is contagious, that is why it is not good to leave a corrupter, backslider and compromiser in a church uncorrected and untouched. Their corruption will soon spread to others in the church.
Take note, Jezebel, not Christ called herself a prophetess. The word of God did not approve her as a prophetess. God said He will cast her and those who committed immorality with her into a bed of suffering, sickness, affliction, and torment. He will kill her children and those who connive with her, everyone of them, except they repent.
The Great Transgressions Of An Unrestraining Compromiser.
Who is this unrestraining compromiser? The angel of the church who turns a blind eye to the evil happening under his watch. He allowed Jezebel to teach and seduce God's servants (workers and leaders under the overall pastor). The leader kept on doing his best running up and down but this woman was busy working at cross purposes with him. Some people do evil and convince others to believe it is right, whereas, nothing is seen right until God says so.
Exodus 32:7. Moses had gone up to collect the commandments from God. He was there when Aaron compromised and conceded to make a molten image as god for the Israelites. When Moses came, he condemned Aaron's action seriously. Aaron made all kinds of unacceptable excuses but Moses did not accept them.
God was so angry with Eli because his children were polluting the tabernacle and corrupting the people of God, and he was so soft in correcting them. He was not as firm as he ought to be. God said He would judge Eli and his children. We do wrong when we allow our children or wives to pollute, defile and spoil the work of God, when we make it look like family affairs, and we look away from their evil after we might have talked to them. Ahab could not do anything to Jezebel, he did not see anything wrong in all that she was doing. God is saying anyone spoiling His work, He would judge and the ears of everyone who hears about the judgment would tingle.
I Kings 21:20,25. Ahab called Elijah Israel's enemy all because his wife did not like him. Jezebel would have said so many bad things about Elijah in the ears of Ahab at home – because Elijah destroyed the prophets of Baal and the evil legacy of idolatry she wanted to leave behind in Israel – and all these influenced Ahab himself to hate the prophet of God. There was an appearance of Jezebel in the church at Thyatira, and the pastor was too weak to correct her. The Lord is saying that He has something against the pastor who must as a matter of urgency deal with her.
The Great Tribulation Awaiting Unrepentant Corrupters. Revelation 2:20-22
Anytime you go into fornication, do not say anyone made you do it. You have your Bible to read and lead you aright. Some people hear the word of God but they are adamant in their fornication, adultery, idolatry, witchcraft and occultism. As a pastor or leader, do not allow the willfulness of a Jezebel to make you close your mouth, keep talking about it. Jezebel could not influence Christ because He is the final Judge, even though she succeeded in shutting the mouth of the pastor. Jezebel did not keep to her husband but kept going around committing adultery, and sucking other people in. Christ said He would judge her and all her partners in evil unless they repent (Luke 13:3,5) There will be indignation and wrath over all who fail to repent.
Romans 2:4-6,8-9. Instead of repenting, they argued and contend against the truth. God said indignation, wrath, tribulations, anguish, pain, torment and judgment will come upon the Jews and gentiles who refuse to repent.
The Great Torment Appointed For Unclean Companions. Revelation 2:23; Hebrews 2:1-3
There is judgment in this life and the one to come because Christ is searching everything out. So you do not want anybody to mislead you by his false doctrines and cancel the power of God in your life, thereby leading you into degradation, defilement and evil. How will those who bring corruption, mislead others, mutilate the scriptures, bring people into idolatry in the church of God escape the judgment of God? They will not escape (Hebrews 10:29-31) Vengeance belongs to God, He will surely judge. It is a fearful thing to keep rebelling, indulging in immorality and idolatry and thereby fall into the hands of the living God.
Hebrews 10:25. Do not refuse Him who is speaking today. He is enlightening, counseling and warning, telling us what will happen eventually. When Christ spoke to all seven churches, He was speaking from heaven, if those who heard the words spoken on earth and refused to repent were not spared, how much more those who heard the words from heaven?
Revelation 21:8
But the fearful, and unbelieving, and the abominable, and murderers, and whoremongers, and sorcerers, and idolaters, and all liars, shall have their part in the lake which burneth with fire and brimstone: which is the second death.
C. THE DILIGENCE AND PURITY OF COURAGEOUS CONQUERORS
For us to conquer, it takes courage of heart, mind and spirit; courage of action, heart and disposition; courage everywhere, every time, in everything and in anyone. That is why the Lord always said, "He that overcomes…". To overcome takes real courage, diligence, purity and perseverance. I pray you will be a conqueror in Jesus name. Amen.
My brother, for us to be rewarded on the last day, we have to be courageous. If we are going to keep to the words of God, we must be courageous, and that is what the devil, the world, persecutors do not want us to have. They do not want us to say No or stand up to them, challenge evil and defend God. Satan will do everything to erode our courage but we will not allow it to happen. Except we have the courage of conquerors, victor and overcomer, the diligence and purity of courageous conquerors. we will not be able to make it.
Spiritual Distancing From Contaminating Depths Of Satan. Revelation 2:24
You have heard about the way we need to keep our distance from people apart from wearing the face masks at this time of covid 19 pandemic so that we do not get infected. Same thing we need to do, keeping ourselves very far from every pollution of sin and iniquity (Leviticus 18:3). You distinguish yourself and stand out so that people will know.
Deuteronomy 12:30-31. The people of God are warned to stay far apart from the ways and practice of the heathen which was so bad to the point of them sacrificing their children to idols (ch 18:9-13) The children of Israel must run away from things that made God hate the heathen.
Do not read the books of the heathen or listen to their smooth and gliding talks. You shall be perfect before the Lord, your God. How will this happen? By keeping a safe distance from anything that could contaminate you.
Steadfast Devotion To The Revelation Of Scriptures. Revelation 2:25
Do not mind when people call you names. They might come to tell you what other compromisers and backsliders are doing. Take your stand, keep your spiritual distance from them. Hold on fast to what you have whether they come in the night or in the day. Hold on to the doctrines of the word of God: salvation, sanctification, water baptism, monogamy, not going to court to settle issues, not using physical weapons to fight spiritual battles, not taking away from or adding to the word of God.
All that you have learned from Christ, hold fast to them regardless of the actions of anyone. Leant to say No to your flesh, pleasure and ease. Hold fast (Revelation 3:11) Hold fast to all that you have, do not let the devil knock it out of your hands. Remember all that God has helped you to do by grace, all you have suffered, all that you have gone through in much sweat and agony, do not allow any Jezebel to knock them out of your hands. God forbid. The wisdom we have as children and ministers of God is to hold fast that which we have that no man take our crowns.
Stately Dominion For Conquering Disciples And Saints. Revelation 2:25-29
Who is he who overcomes? He that keeps the words, work and will of God till the end. He shall have a reward. He that does not overcome shall have none. He that overcomes shall have dominion and rule.
He that has an ear is the one who looks at and obeys the word of God. The one who is ready to correct all errors, the one who will re-examine and re-evaluate his life, lifestyle and ministerial style, he who would not allow the noise of the devil and the people to block their ears.
If you are a child of God and a man of God, the spirit of God has spoken to you. We are going to take everything the Lord has revealed to us to the Lord in prayer. My brother and sister, five minutes prayer will not be enough to go through everything the Lord has revealed to us tonight. We are learning so that we can put into action all that He has taught us. After this message, go on your knees and pray. Ensure you pray seriously.
Prayer
Pray for grace to stand without being corrupted and corrupting others
Pray for our pastor, that God will renew His strength, He will not be tired or weary.
Amen and Amen.
Flatimes' Notice Board: Until you are born again, God ever abiding presence will never be with you. You must be born again to enjoy continuous victory. Please say the displayed prayer below in faith:
Lord Jesus, come into my life. I accept You as my Lord and Personal Saviour. I believe in my heart You died and rose from the dead to save me. Thank You Lord for saving me, in Jesus name Amen.
If you just prayed the prayer of salvation online please send your testimonies and prayer request to HELP LINES: +234(8157991934, 8157991936, 8157991937) E-MAIL: ltm@deeperlifeonline.org