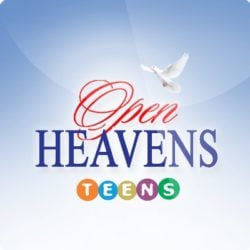 Topic: Divine 'Expo' [Open Heavens for Teens 15 March 2020]
Click HERE for Previous Open Heaven Devotional for Teens
MEMORISE: "He revealeth the deep and secret things: he knoweth what is in the darkness, and the light dwelleth with him. Daniel 2:22
READ: Daniel 2:21-22
21 And he changeth the times and the seasons: he removeth kings, and setteth up kings: he giveth wisdom unto the wise, and knowledge to them that know understanding:
22 He revealeth the deep and secret things: he knoweth what is in the darkness, and the light dwelleth with him.
BIBLE IN ONE YEAR: Deuteronomy 26-27; Mark 15:1-26
MESSAGE:
For the non Nigerians reading this, expo is a term used to refer to cheat codes in an examination. For example, if you take a sheet of paper containing answers into the examination hall to use, then you are trying expo.
Do you know that God gives expo to His children occasionally? Yes, God tells His children secrets like what topics the question will be taken from, so that they will only read the necessary ones. The Holy Spirit also whispers into their ears what they have previously and forgotten in the exam hall.
If you want to be a partaker of this expo, then you need to involve Him in your exam preparations. Pray before you start reading. Pray on your exam timetable. Ask Him to teach you how to answer the questions in the exams hall. God is not a gate crasher. If you don't invite Him to help you, He will not force Himself in you.
Reflection:
God wants His children to excel, so He gives them divine assistance occasionally.
Hymn 17:
1 My faith looks up to Thee,
Thou Lamb of Calvary,
Savior divine!
Now hear me while I pray,
Take all my guilt away,
Oh, let me from this day
Be wholly Thine!
2 May Thy rich grace impart
Strength to my fainting heart,
My zeal inspire!
As Thou hast died for me,
Oh, may my love to Thee
Pure, warm and changeless be,
A living fire!
3 While life's dark maze I tread,
And griefs around me spread,
Be Thou my guide;
Bid darkness turn to day,
Wipe sorrow's tears away,
Nor let me ever stray
From Thee aside.
4 When ends life's transient dream,
When death's cold sullen stream
Shall o'er me roll;
Blest Savior, then, in love,
Fear and distrust remove;
Oh, bear me safe above,
A ransomed soul.
Daily Devotional for Teen's guide was written by Pastor E.A. Adeboye, the General Overseer of the Redeemed Christian Church of God, one of the largest evangelical church in the world and also the President of Christ the Redeemer's Ministries.