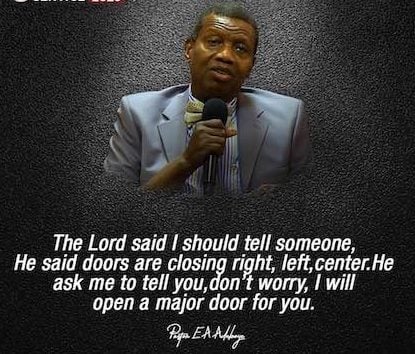 Prayer Points On Open Heavens 8 June 2021 – Prayers For Elders
Click HERE for Previous Open Heaven Devotional
Open Heaven 2021 Prayer Points for June 8th:
1.Father, we thank You for all our elders. Please help them to stay true to their calling as men and women of wisdom. – Click HERE for Open Heaven 8 June 2021
2.Father, please help all our elders to finish well. None of them will lose their place in Your kingdom in Jesus' name.
3.Father, please heal all our elders who may be sick in their bodies. Touch them and take away the sickness and all its symptoms in Jesus' name.
4.Father, let none of the elders suffer the sicknesses and diseases that plague people in their old age. Father, give them divine health.
5.Lord, as You used Moses until age one hundred and twenty years, please continue to use all our elders for Your glory.
6.Father, for those of our elders who have stopped dreaming, please give them the grace to begin to dream again. It is not over until You say so, Lord. Our elders will dream again in Jesus' name.
7.Father, protect our elders in all their ways. Let the blood of Jesus speak for them every day. Let no harm come near them or their dwelling in Jesus' name.
8.Father, if there are lands and territories our elders have not covered according to Your will for them, please, help them to arise with strength to take over these territories so their assignments are completed in Jesus' name.
9.Lord, by mercy, none of our elders will be put to shame in Jesus' name. Their enemies will not mock them in Jesus' name.
10.Father, we decree that our elders are blessed with long life and good health. They will see their grandchildren and great-grandchildren even to the fourth generation in Jesus' name.
11.Lord, no matter what happens, our elders will live fulfilled lives in Jesus' name. They will see all their dreams come True in Jesus' name. They will laugh for joy in in the Mighty name of Jesus.
12.Your personal prayer point for the elders around you.
THANKSGIVING:
Thank You Father for all our elders who You have faithfully kept to their old age. Thank You for keeping them in good health and sound mind. Thank You for protecting them despite all that is happening in the world today.
13.Your Personal petitions. (Philippians 4:6)
14.In Jesus name I pray. (John 14:13-14; 15:16)
15.Thank you Father for answered prayers. (1 Thessalonians 5:18).
Special Note:
These prayer points are not written by Pastor E. A. Adeboye, but by one his numerous disciples, for Christ, who was inspired and mandated by the Holy Spirit, about 5years ago, (effective January 1st, 2015), to start writing these prayer points, based on the Open Heavens Daily Devotional, authored by Pastor E. A. Adeboye.
Some of the prayer points are deep spiritually and may not be understood by carnal minds.
If you want to be blessed from these prayer points, you must first, surrender Your life, to the Lord Jesus Christ, Himself, by saying this prayer:
"Lord Jesus, I come to You with a deeply repentant heart, please, forgive me all my sins. I surrender my life to you, today, and, I accept You, as my personal Lord and Saviour. Please, come into my life and save my soul from eternal destruction in hell fire. In Jesus name, I pray."
These prayers have no expiry date! Please, pray them, irrespective of the time they get to you. Remain blessed, in Jesus name.
Kindly, purchase your own hard copy or online version of the Open Heavens Devotional & buy for your friends too, as a potent evangelism tool. God bless you, as you sow, into Pastor E.A. Adeboye's book Ministry, in Jesus name.