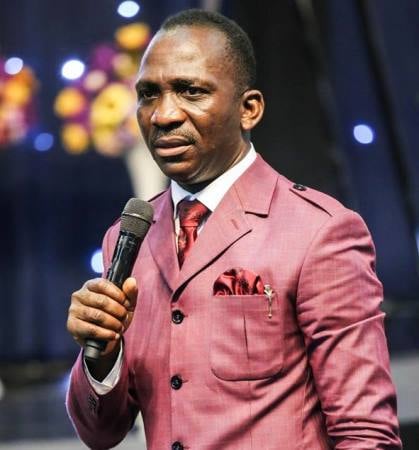 Excellence in Marriage By Pastor Paul Enenche
Click HERE for Previous MESSAGES by Pastor Paul Enenche
2019 KINGDOM POWER AND GLORY WORLD CONFERENCE (DAY 1) – FAMILY/RELATIONSHIP SUCCESS SECRETS
ANCHOR SCRIPTURE: EPHESIANS 5:25-30
MESSAGE TOPIC: EXCELLENCE IN MARRIAGE
BY: DR. PAUL ENENCHE
SERVICE OBJECTIVE: Finding the pathway to excellence in marriage
The home is one of the most attacked institutions in our world today
There is a perpetuation of negativity coming out of our homes but God is raising homes that will perpetuate positivity through this conference
PATHWAYS TO EXCELLENCE IN MARRIAGE (FOR THE SINGLES):
A clear vision of desired future (Gen. 13:15)
Is what you want clear to you? What is not clear for you cannot be there for you.
Clear role modelling and mentoring (Judg. 7:17)
As a single, you must have a model marriage that you look forward to becoming like and learn from them on what it takes to make marriage work
Strong vision and passion for the Kingdom (Phil. 1:21; Prov. 29:18)
When your vision for the Kingdom is intact and strong, God will not make you miss it in marriage or destiny
A strong vibrant relationship with the Creator (Gen. 19:27)
The state of your spirit determines the state of your life/destiny
Spiritual sensitivity and perception (Rom. 8:14; Prov. 3:5)
Be sharp in the spirit to know when you meet the right wife/ husband
When you trust God for sensitivity, you see things you ought to be wary about
The release of negative past experiences (Phil. 3:12-13)
Until the past is forgotten, the future is not guaranteed
Absolute surrender to God's perfect Will (Jer. 29:11)
You need to be married to people who can understand your pains, things you have been through that are negative
Active work on character (Gal. 4:1-2)
In marriage, it is not a matter of longevity but responsibility
It is important to ask God to work on any area of your life that can affect your marriage and show you what to do to make it in marriage
Character failure/deficiency equals destiny delay
The rejection of negative family/ancestral pattern (Gal. 3:13-14)
What you don't reject can remain
The possession of the relevant Scriptural revelation for marital success(Deut. 29:29)
Any area you have revelation, in that area you have results
The recognition of warning signals in relationship (Luke 12:55-56)
Anything that will happen to your marriage in the future, you see the signs when dating
Love can be blind as always said but marriage is an eye-opener
– I pray God opens your eyes and show you signals of who you are going into marriage with in Jesus' Name
12. Look beyond the container and look beyond the moment (Jer. 29:11)
Container does not guarantee content; there is a difference between the moment and the future
The most important aspect of anything that we deal with is the content
Marry someone you can truly appreciate
Be very passionate about the content of the person you want to marry (character, vision, spiritual-wise)
The lady that is flashy may not have the content that God wants for your life and the man that God wants for you might not be rich enough now, just struggle for the Will of God.
Also Read: Restoring A Bad Marriage by Pastor Faith Oyedepo
PATHWAYS TO EXCELLENCE IN MARRIAGE (FOR THE MARRIED):
Live both in the fear and love of God (Eph. 5:25-30)
Nobody who fears and love God can be a bad spouse
The closer you get to God, the more loving you become
Live in genuine love and sincerity towards your partner (Eph. 5:25-30)
Live in genuine vibrant spirituality (Eph. 5:25-30; Matt. 6:33)
Marital harmony will flow if spirituality is in place
Spiritual integrity will promote marital dignity and harmony
Associate with those who have positive family values (Eph. 5:25-30; Prov. 27:17)
Be under spiritual accountability (Eph. 5:25-30)
Let someone (a spiritual head/figure) be able to hold you responsible for the way you are living your married life
Accountability imparts and assists integrity
Be watchful (Eph. 5:25-30; Matt. 26:41; 1Cor. 10:12)
Every good home is a threat to enemy agenda; the devil wants people to believe that nothing works in a home
Be friends of each other (Eph. 5:25-30; Prov. 18:24)
Let your spouse find in you a friend
Life is too short to live in tension; you have one life to live make sure you enjoy it
Be trustworthy (Eph. 5:25-30; Prov. 18:24)
Be a person your spouse can trust; if your spouse doubts you, your relationship will have crisis
Be repentant (Ps. 34:18)
Don't be too big to say sorry; in fact, be too quick to say sorry
Be forgiving (Matt. 6:12)
You don't walk into the future going backwards
Be considerate (Matt. 7:12; 1Cor. 7:1-5)
Anything you want, do it for the other person
It is not a compliment to have a frustrated spouse as long as the issue of sexual relations is concerned
Be interested (Prov. 18:24)
You cannot be an interesting person until you are interested in the affairs of your spouse
Be relevant, don't be out-dated (Rom. 12:1)
Remain relevant to your spouse
Women, present your best to your husband
Remember where you have come from (Isa. 51:1-2)
Be mindful of the future of your children (Mal. 2:14-15)
Your son is looking at you as a father to see the model of a father and husband; how you operate can affect his masculinity and paternity
Irrespective of your personal grievance, calm your head and make your marriage work because your daughter is looking up to you and how you operate can affect her femininity and motherhood
Your success in marriage is confirmed if your children can boldly marry your type of person as a spouse
PRAYERS:
Father, we have come into this conference trusting for a heavy download of Your Word. Speak Your Word in due season to us Lord in Jesus' Name (Luke 14:28-30)
Father, I receive the grace to be successful in marriage. I refuse to have marital failure, I decree that I shall succeed, every generational and witchcraft spell fighting my marriage is broken. No spell shall succeed against my marriage, destiny and future. I prophesy I shall excel in marriage and in my future Lord in Jesus' name
PROPHETIC DECLARATIONS:
Every anti-marital spell is broken in Jesus' Name
Everything that has fought your marriage, we decree the help of God is coming for you right now
The delay of marriage is over, every power causing your delay is broken
I declare God opens your eyes to see what is right for you
Your homes are healed in Jesus' Name
As a single, you will remember this convention for the fact that God connected you to the right person
I speak peace, tranquillity and serenity to every troubled home. Peace to your children in Jesus' Name
Every sickness in your home is healed in the Name of Jesus
Every family struggling financially, I prophesy financial break
Every family where the marital home has run out, I declare a renewal of marital wine.
Your home shall become like a new home in Jesus' Name
Flatimes Notice Board: Until you are born again, God ever abiding presence will never be with you. You must be born again to enjoy continuous victory. Please say the displayed prayer below in faith:
Lord Jesus, come into my life. I accept You as my Lord and Personal Saviour. I believe in my heart You died and rose from the dead to save me. Thank You Lord for saving me, in Jesus name Amen.
If you just prayed the prayer of salvation online please send your testimonies and prayer request to info@dunamisgospel.org, +234-803-3144-509, 234-803-320-0320.