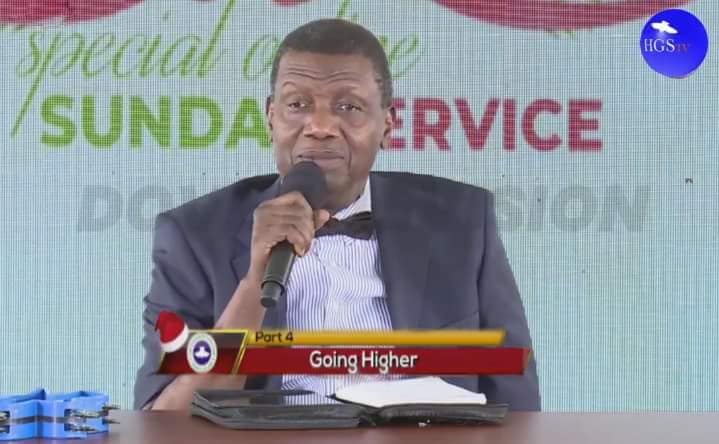 Going Higher (Part 4) By Pastor E. A. Adeboye
Click HERE for Previous Pastor E. A. Adeboye Messsages
RCCG 10TH OF JANUARY 2021 SPECIAL SUNDAY SERVICE
TOPIC: GOING HIGHER PART 4
TEXT: 1 KINGS 17:1
BY: PASTOR E.A. ADEBOYE
SONG
Immortal God
Invincible God
Immortal God
How great Thou art
OPENING PRAYER
Our Father and our God, the One who lives forever, we worship You. The Author and the Finisher of our faith, there is no one like You. We give You all the glory, please, accept our worship in Jesus' name. Today, Lord, God Almighty, here and everywhere in the world, show Yourself mighty in Jesus' name. In the lives of all Your children, my Father and my God, show Yourself mighty. Even as a result of this service my Father and my God, let there be mighty testimonies. In Jesus' mighty name we have prayed.
Amen!
Praise the Lord.
Hallelujah!
THE MESSAGE
TEXT – 1 KINGS CHAPTER 17
1 And Elijah the Tishbite, who was of the inhabitants of Gilead, said unto Ahab, As the Lord God of Israel liveth, before whom I stand, there shall not be dew nor rain these years, but according to my word.
The worst attack on an enemy is close heavens over the fellow.
In Amos 4:7-8, God said when He wants to show His anger, He will allow rain to fall on a city and keep the other city dry. The city that got the rain prosper while the city without the rain will wither. The withered city will go to the other city for water to drink.
PRAYER:
All the forces of darkness that may be waging wars against any of you my children, right now, the heavens will be shut over them.
You need open heavens to go higher.
If heaven is shut, you will not be able to go higher and you will begin to go wither.
WHEN THE HEAVENS ARE OPENED FOR SOMEONE, THE FELLOW COULD RECEIVE:
Divine visitations.
In Exodus 3:15, Moses got a divine visitation.
Affirmation from heaven.
Whatever God says about you is what you will be.
Romans 4:17, God calls those things which are not as though they were.
Judges 7:15-25, the heaven opened for Gideon.
Whatever God calls you that is what you will become.
PRAYER:
Heavens will open and the Almighty God Himself will call you mighty man/woman and that is what you will become.
In Luke 5:1-11, Jesus called Peter fisher of men when he had an encounter with Jesus.
In Acts 2:1-4, Heaven opened unto Peter.
In Acts 5:12-16, From the ministry of a man who was a failed fisherman, multitudes came into the kingdom of God.
The destiny of a man will become activated.
Exodus 2.
1 Kings 19:19-21.
2 Kings 2:9-15.
Galatians 1:15 But when it pleased God, who separated me from my mother's womb, and called me by his grace,
In Acts 9:1-21, The heavens opened unto Paul and his destiny became activated.
PRAYER:
Today, the heavens will open for you and whatever you were born to become will become activated today.
Difference between life and death.
Genesis 32:1-32.
Genesis 32:24 "And Jacob was left alone; and there wrestled a man with him until the breaking of the day."
Genesis 33:1-5 Death has been changed to life for Jacob.
Death was coming for Jacob but it was life that met Israel.
DECREE:
May I decree to someone who has been destined to die soon, in the mighty name of Jesus Christ, your appointment with death is canceled.
The fellow will begin to see visions of God.
Ezekiel 1 :1 Now it came to pass in the thirtieth year, in the fourth month, in the fifth day of the month, as I was among the captives by the river of Chebar, that the heavens were opened, and I saw visions of God.
How can you go higher and higher if you have no vision and you don't know where you are going. You can't go higher if you don't know where the higher you are talking about is.
Proverbs 29:18 Where there is no vision, the people perish: but he that keepeth the law, happy is he.
HOW DO I GET THE HEAVES TO OPEN FOR ME?
Deuteronomy 28:1-13.
If you will hearken diligently unto the voice of the Lord thy God, to observe and to do all that He commands you, then, heavens will open.
Obey all the instruction of God including bringing all the tithes into His house.
Malachi 3:10 "Bring ye all the tithes into the storehouse, that there may be meat in mine house, and prove me now herewith, saith the LORD of hosts, if I will not open you the windows of heaven, and pour you out a blessing, that there shall not be room enough to receive it."
WHAT CAN I DO TO AVOID THE HEAVENS FROM BEING CLOSED OVER ME?
Your obedience to God must be complete not halfway.
Revelation 3:15-16.
1 Samuel 15.
In 1 Samuel 28:3-25, God closed the heavens over king Saul.
PRAYER:
The heavens will never close over you.
HOW TO OPEN CLOSED HEAVEN.
2 Chronicles chapter 7
13 If I shut up heaven that there be no rain, or if I command the locusts to devour the land, or if I send pestilence among my people;
14 If my people, which are called by my name, shall humble themselves, and pray, and seek my face, and turn from their wicked ways; then will I hear from heaven, and will forgive their sin, and will heal their land.
Are you operating under closed heavens?
Is everything just going from bad to worse?
Are you at a stage when you don't even know what next to do?
God asked you to humble yourself
James 4:6 But he giveth more grace. Wherefore he saith, God resisteth the proud, but giveth grace unto the humble.
Philippians 2:5-12
Come to God.
Pride can shut the door of heaven over a man on a permanent basis.
The higher you go the humbler you must become.
You can not afford closed heavens if you are to get to where God wants you to get to.
ALTAR CALL
Humble yourself, surrender your life to Jesus Christ today. He will save your soul and suddenly the heavens will open over you.
SALVATION PRAYER
Prayer: 'Lord, I won't struggle with You anymore. I surrender to You. Please, save my soul and l will serve You for the rest of my life'.
My Father and my God, I want to bless Your holy name. I want to thank You very much for Your word that has gone forth to Your children today. I want to thank You for these people who are surrendering their lives to You now all over the world, please, receive them. Save their souls. Wash away their sins. Receive them Lord into the family of God. As they continue to serve You in humility, keep the heavens wide open over them.
Amen!
CLOSING PRAYER:
As for all Your children who have heard this message today, who will say bye-bye to pride and make up their minds to obey You hundred percent, Lord, God Almighty, open the heavens over them and keep the heavens forever open so they can go higher and higher. In Jesus' mighty name we have prayed.
Amen!
Praise the Lord.
Hallelujah!
CONTACT ME AS SOON AS POSSIBLE
Those of you who have given your lives to Jesus Christ today, please, try and contact me as soon as possible so I can continue to pray with you. Seek out a branch of the Redeemed Christian Church of God nearest to you.