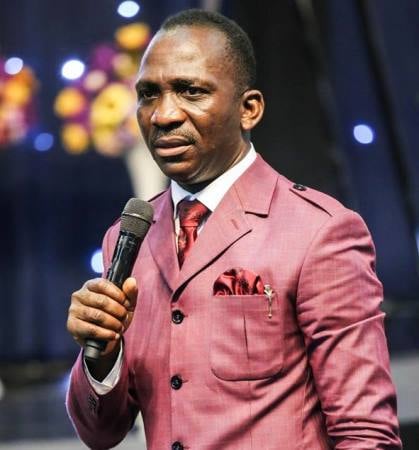 Hearing And Seeing; Seeing And Hearing By Pastor Paul Enenche
Click HERE for Previous MESSAGES by Pastor Paul Enenche
HOPE FOR THE NATIONS PRAYER – TUESDAY, 28TH APRIL 2020
ANCHOR SCRIPTURE(S): HABAKKUK 2:1
MESSAGE TOPIC: HEARING AND SEEING; SEEING AND HEARING
BY: DR. PAUL ENENCHE
The sense of hearing and that of sight are 2 of the most important senses in the body. These 2 senses stand out in the physical and determine a lot of things we do with our lives.
As it is in the physical, so it is in the spiritual. Hearing and seeing in the spiritual are very important.
HEARING AND SEEING (Hab. 2:1; Jer. 2:31)
When we hear from God, we are expected to see some things
The Word of God, the Scriptures, are meant to communicate pictures
It is the picture of Scripture that is called revelation (1Sam. 3:21)
The Word is meant to communicate pictures; as God is saying it, you are seeing it
If you only heard it or read it, it is information; it is when you move from information to revelation that you see manifestation
It is when you have seen well that your manifestation comes in a hurry (Jer. 1:11-12)
Every time revelation is born, manifestation is inevitable!
Examples:
Scriptural revelation caught by Bishop Oyedepo on Divine health – Matt. 8:17
Scriptural revelation caught by me on longevity – Job 5:26 KJV, TLB
SEEING AND HEARING
When we hear from God, God expects us to see some things (that is revelation), and when we see some things, God expects us to hear some things (1Kings 4:33-34; Prov. 24:30-34; Jer. 18:1-6)
i. Observation is key to instruction
ii. Observation is key to direction; Divine direction
iii. Observation facilitates discretion; it brings wisdom
What am I learning from what I am seeing? What instruction am I getting from what I am seeing? How much wiser am I from what I am seeing and hearing? These are questions to ask one's self.
God is always speaking but men are not always listening (Ps.19:2)
CONCLUSION:
Many hear but see nothing and many see but hear nothing, so life is unchanged
It is not what you heard or read that matters but what did you see?
It is not what saw that matters but what did you hear?
When what you hear translates into what you see and what you see translates into what you hear, then who you used to be will translate will translate into who you are meant to be!
KEYS TO HEARING WHILE YOU SEE AND SEEING WHILE YOU HEAR:
Ask God for the seeing eye and hearing ear (Prov. 20:12; Ps. 119:18; Eph. 1:16-18)
Be determined and diligent to hear and see or to see and hear (Hab. 2:1)
There is a deliberate dimension to it; God does not do serious things will unserious people
God does not give insight where there is no interest
There is no future for the planless
If you want to make a mark on time, hit the road on time
Document what you see and hear (Hab. 2:2; Mark 4:24)
God is not a Waster; He doesn't waste instruction
The observation you made on the road, write it down, don't say you will write it when you get home
"The faintest ink is more powerful than the strongest memory."
"The best time to make hay is when the sun shines"
"The best time to strike the iron is when it is hot"
The best time to pen the thought is when it arrives
There is a connection between the thought of a man and the pen in his hand
When you pen thoughts you pull more
There is a connection between inspiration and documentation
When you document thoughts it will pull out more and make God to entrust you with more
Don't allow those spiritual senses of hearing and seeing to be wasted
PRAYERS:
Father, thank You for Your Word to us today. To You be all the glory Lord, in Jesus' Name.
Father, I make demands on the seeing eye and hearing ear, the spirit of wisdom and revelation in the knowledge of You. Open my eyes to see as I hear and open my ears to hear as I see Lord, in Jesus' Name.
Father, I receive the determination and the diligence to hear and see, in Jesus' Name.
Father, I receive the discipline to apply what I hear and see, from documentation to application, I receive it Lord, in Jesus' Name.
Father we ask that as a world we will learn; help us to see and hear out of what we are experiencing. Reveal Yourself to the world and our generation in this season. Let us hear what we are meant to hear, see what we are meant to see and know what we are meant to know, Oh Lord, in Jesus' Name.
Flatimes Notice Board: Until you are born again, God ever abiding presence will never be with you. You must be born again to enjoy continuous victory. Please say the displayed prayer below in faith:
Lord Jesus, come into my life. I accept You as my Lord and Personal Saviour. I believe in my heart You died and rose from the dead to save me. Thank You Lord for saving me, in Jesus name Amen.
If you just prayed the prayer of salvation online please send your testimonies and prayer request to info@dunamisgospel.org, +234-803-3144-509, 234-803-320-0320.