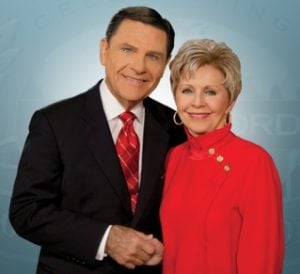 Kenneth Copeland Devotional 21 October 2023 – Covenant Prosperity
Click HERE for Previous Devotional
Topic: Covenant Prosperity
But thou shalt remember the Lord thy God: for it is he that giveth thee power to get wealth, that he may establish his covenant. – Deuteronomy 8:18
What is God's reason for prospering His people? Is it so we can watch bigger TVs? So we can buy finer houses and more luxurious cars?
Establishing God's covenant on the earth and giving to those in need: Those are God's purposes for prosperity!
I've had some people tell me, "Well, Brother Copeland, Jesus' ministry was poor and He got along just fine." That's ridiculous. All the way through the Old Testament God promised material blessings to anyone who would walk perfectly and uprightly before Him. If God had failed to bless Jesus financially, He would have been breaking His own Word.
Jesus never built a worldly empire for Himself. But that doesn't mean He was poor. It means He was the greatest giver who ever walked the face of this earth—and it's about time we started following in His footsteps.
If we'll start giving, if we'll start taking care of the needs in people's pocketbooks, we'll be far more likely to win their hearts.
What do you think will happen to the heart of a starving nation when you bring in a 747 full of food, clothes and medical supplies to them in the Name of Jesus and His love? The hearts of those people are going to soften! They're going to be willing to listen to what we have to say about Jesus.
Don't you ever let anyone tell you it's wrong to want to prosper. It's wrong for you not to want to prosper when that prosperity can mean the difference between heaven and hell for millions of people.
Forget about your own little needs. Raise your vision and set your mind on giving to meet someone else's, on establishing God's covenant in the earth. Then stand fast in faith and get ready to enjoy the greatest prosperity you've ever known.
Scripture Reading: Deuteronomy 8:11-18
This message was written by Kenneth and Gloria Copeland, the leader of the Kenneth Copeland Ministries (www.KCM.org) that specializes in teaching principles of bible faith – prayer, healing, salvation and other biblical topics.
Flatimes Notice Board: Until you are born again, God ever abiding presence will never be with you. You must be born again to enjoy continuous victory. Please say the displayed prayer below in faith:
Lord Jesus, come into my life. I accept You as my Lord and Personal Saviour. I believe in my heart You died and rose from the dead to save me. Thank You Lord for saving me, in Jesus name Amen.
If you just prayed the prayer of salvation online please send your testimonies and prayer request to +1-817-852-6000