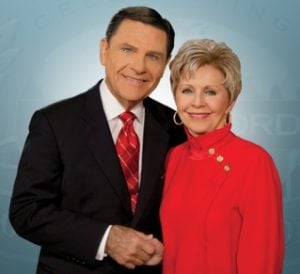 Kenneth Copeland Devotional 1 April 2022 – Let Your Life Shout
Click HERE for Previous Devotional
Topic: Let Your Life Shout
The fool hath said in his heart, There is no God. They are corrupt, they have done abominable works, there is none that doeth good. – Psalm 14:1
Most of us would never dream this verse could apply to us. After all, we're believers! We'd never say that there is no God.
But maybe we should think again. It's true that with our mouths we would never say something like that…but don't we sometimes say it with our actions?
We say it by sinning just a little here and there and thinking it won't matter. We'll go to an immoral movie or have a gossip session about the pastor, ignoring God's command to the contrary.
With our actions we're saying, "There is no God."
Psalm 14:1 connects that kind of thing to corruption. Whether you realize it or not, the more you act that way, the more corrupt you're going to become.
Don't make the foolish mistake of publicly proclaiming Jesus as your Lord, and then privately denying Him one little action at a time. Use wisdom in everything you do so that both your heart and your life shout loudly, "My God reigns!"
Scripture Reading: Psalm 14:1-7, 15:1-5
This message was written by Kenneth and Gloria Copeland, the leader of the Kenneth Copeland Ministries that specializes in teaching principles of bible faith – prayer, healing, salvation and other biblical topics.
Flatimes Notice Board: Until you are born again, God ever abiding presence will never be with you. You must be born again to enjoy continuous victory. Please say the displayed prayer below in faith:
Lord Jesus, come into my life. I accept You as my Lord and Personal Saviour. I believe in my heart You died and rose from the dead to save me. Thank You Lord for saving me, in Jesus name Amen.
If you just prayed the prayer of salvation online please send your testimonies and prayer request to +1-817-852-6000