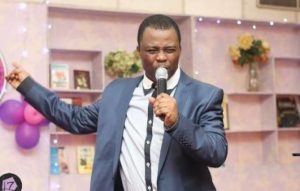 TOPIC: The Holy Spirit (Mountain of Fire and Miracle Ministries Tuesday, 27 March 2018)
FIRE SCRIPTURE: Acts 2:1-4
MEMORY VERSE:
"If ye then, being evil, know how to give good gifts unto your children: how much more shall your heavenly Father give the Holy Spirit to them that ask him?" – Luke 11:13
The MESSAGE:
The Holy Spirit brings the fulness of God to believer's lives. He represents God in your life. He is there to connect your mind to the throne of God so that you can have access to divine information and knowledge. Have you been trying for too long to receive the Holy Spirit? If yes, the problem is that you have been 'trying'. You need not try. He is not a gift you work for. Do you really work for any gift? All you need to do us to receive Him. It is that simple. In fact, the Spirit of God is willing to dwell in everyone who makes himself inhabitable for Him. You are inhabitable by being available. The Scripture confirms that our body is the temple of the Holy Spirit, but the Holy Spirit will not dwell in the temple occupied by strangers. If you are not living a holy life, you are not habitable; therefore, the Holy Spirit cannot dwell in you even if you desire Him.
Here are six fundamental things you should know about receiving the Holy Spirit:
1. God promised to give the Holy Spirit and He has fulfilled that since the day of Pentecost. He is not going to come down afresh for anyone. He is already here (John 14:16, Acts 2:1-4). Simply receive Him.
2. Anyone who is born again is ready to receive the Holy Spirit (Acts 2:38).
3. Expect to receive the Holy Spirit when you ask for Him yourself or when hands are laid on you to receive Him (Acts 8:18-20).
4. You cannot receive an evil spirit if you ask God for the Holy Spirit (Luke 11:11-13).
5. Expect to speak in other tongues when you receive Him (Acts 2:4).
6. Open your mouth to give expression to the utterance of the Holy Spirit (Acts 2:4).
You cannot live a successful Christian life without the Holy Spirit. Receive Him today. And if you have, make sure you pray in tongues every day. If you are not yet born again, say this prayer: _"Lord Jesus, I believe that You died and resurrected to give me a new nature. I accept You as my Lord and Saviour. Forgive me of my sins and cleanse me with Your blood. Thank You Jesus."_ You can go ahead to receive the baptism of the Holy Spirit. Say this: "Thank You Lord for giving me a new nature. Your word says You shall give unto us any good thing we desire according to Your will. It is Your will for Your children to receive the baptism of the Holy Spirit. So, according to Your will, I ask for the infilling of the Holy Spirit now, in Jesus' name."
MOTIVATIONAL QUOTE:
God is not looking for whom to bless. He is looking for whom to receive His blessing.
PROPHETIC WORD:
As you stir up the gifts of the Holy Spirit in you, your life shall become a wonder to the world.
PRAYER POINTS:
MORNING
1. Holy Spirit, come and reside fully in me and direct my prayers as I pray now in the Spirit, in Jesus' name.
2. Power of the Holy Ghost, overshadow me now, in the name of Jesus.
3. Fire from above, my life is available, enter, in the name of Jesus.
EVENING
4. I will not be a hindrance to my spiritual growth, in Jesus' name.
5. Any plan of the devil against my spiritual growth, scatter, in the name of Jesus.
6. I go from strength to strength and from glory to glory, in Jesus' name.
7. I overcome the spirit of fear that hinders me from maximising God's gifts, in Jesus' name.
If you missed yesterday devotional, please click to read MFM Mountain Top Life Daily Devotional HERE 
MOUNTAIN TOP LIFE is a daily devotional by Dr. D.K Olukoya (General Overseer, Mountain of Fire and Miracle Ministries, Worldwide)
Flatimes' Notice Board: Please do not prolong your salvation if you have not repented. Many are going home daily and tomorrow maybe too late…There is still hope, JESUS LOVES YOU!