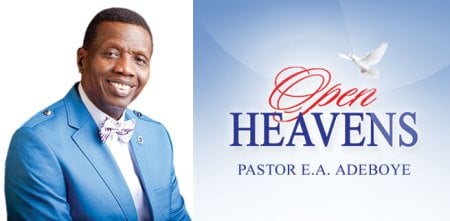 Open Heaven 18 January 2021 Monday Daily Devotional By Pastor E. A. Adeboye – MCY: Bitterness
Click HERE for Previous Open Heaven Devotional
Topic – MCY: Bitterness (Open Heaven 18 January 2021)
Memorise: For if ye forgive men their trespasses, your heavenly Father will also forgive you: – Matthew 6:14
Read: Mark 11:23-26 (KJV)
23 For verily I say unto you, That whosoever shall say unto this mountain, Be thou removed, and be thou cast into the sea; and shall not doubt in his heart, but shall believe that those things which he saith shall come to pass; he shall have whatsoever he saith.
24 Therefore I say unto you, What things soever ye desire, when ye pray, believe that ye receive them, and ye shall have them.
25 And when ye stand praying, forgive, if ye have ought against any: that your Father also which is in heaven may forgive you your trespasses.
26 But if ye do not forgive, neither will your Father which is in heaven forgive your trespasses.
Bible In One Year: Deuteronomy 17-20
Open Heaven 18 January 2021 Monday MESSAGE:
We have been treating the "Mathematics of Christ in You" (MCY) since January 11. The 'B' in our equation for Resistance stands for Bitterness. If you refuse to forgive those who have offended you, you are only multiplying your suffering because the fellow who offended you, is going on with his or her life yet you are suffering spiritually. It is like stopping to rant at someone who sped past your car at a traffic light you are only delaying yourself further. I quickly forgive those who offend me because I don't want to get myself into trouble. I cannot allow bitterness to disconnect me from God. Hebrews 12:15 says:
"Looking diligently lest any man fail of the grace of God; lest any root of bitterness springing up trouble you, and thereby many be defiled;"
Also See: Open Heaven 19 January 2021 – MCY: Family Ties
Unforgiveness can defile you and lead to some very serious sicknesses too. There was a man who was bloating. The doctors could not find anything wrong, so he came to the Church. God revealed that the man had some restitution to make. We eventually found that this man chose not to forgive his son-in-law. When he was going to give out his daughter in marriage, he made the young man promise to take good care of her. Unfortunately, the boy started beating the wife. Her father pleaded with him, but things only got worse. One day, the husband fired a gun at his wife but missed narrowly. That was when the man asked his daughter to leave finally; however, he swore to never forgive the boy and to deal with him.
The man was told that he had to forgive, and in fact, according to Matthew 18:15 he had to be the one to go to the son-in-Iaw. The man went because he wanted to be healed. As he reached his son-in-law's house, the young man tried to escape. The man however said I have not come to fight I have come to beg you. I have forgiven you and I want you to do the same". As they hugged and wept, the man who had been bloat suddenly reduced in size to such an extent that his wedding ring dropped from his finger to the ground. He was healed.
Forgive, so you can be free.
Open Heaven 18 January 2021 Monday Key Point:
Stop punishing yourself; forgive everyone who has offended you.
Open Heaven 18 January 2021 Monday Hymn 28: What A Friend We Have In Jesus
What a friend we have in Jesus,
All our sins and griefs to bear!
What a privilege to carry
Everything to God in prayer!
Oh, what peace we often forfeit,
Oh, what needless pain we bear,
All because we do not carry
Everything to God in prayer!

Have we trials and temptations?
Is there trouble anywhere?
We should never be discouraged—
Take it to the Lord in prayer.
Can we find a friend so faithful,
Who will all our sorrows share?
Jesus knows our every weakness;
Take it to the Lord in prayer.

Are we weak and heavy-laden,
Cumbered with a load of care?
Precious Savior, still our refuge—
Take it to the Lord in prayer.
Do thy friends despise, forsake thee?
Take it to the Lord in prayer!
In His arms He'll take and shield thee,
Thou wilt find a solace there.

Blessed Savior, Thou hast promised
Thou wilt all our burdens bear;
May we ever, Lord, be bringing
All to Thee in earnest prayer.
Soon in glory bright, unclouded,
There will be no need for prayer—
Rapture, praise, and endless worship
Will be our sweet portion there.
Open Heavens Daily Devotional guide was written by Pastor E. A. Adeboye, the General Overseer of the Redeemed Christian Church of God, one of the largest evangelical church in the world and also the President of Christ the Redeemer's Ministries. The Open Heavens devotional application is available across all mobile platforms and operating systems: iOS, Android, Blackberry, Nokia, Windows Mobile and PC.
Flatimes Notice Board: Until you are born again, God ever abiding presence will never be with you. You must be born again to enjoy continuous victory. Please say the displayed prayer below in faith:
Lord Jesus, come into my life. I accept You as my Lord and Personal Saviour. I believe in my heart You died and rose from the dead to save me. Thank You Lord for saving me, in Jesus name Amen.
If you just prayed the prayer of salvation online please send your testimonies and prayer request to info@rccg.org, +234-1-8447340, +234-0-7098213112.