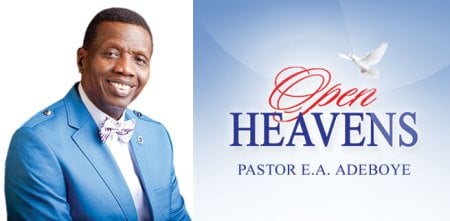 Open Heaven 18 October 2020 Sunday Daily Devotional By Pastor E. A. Adeboye – Preserve The Harvest
Click HERE for Previous Open Heaven Devotional
Topic: Preserve The Harvest (Open Heaven 18 October 2020)
Memorise: Teaching them to observe all things whatsoever I have commanded you: and, lo, I am with you alway, even unto the end of the world. Amen. – Matthew 28:20
Read: Matthew 28:18-20 (KJV)
18 And Jesus came and spake unto them, saying, All power is given unto me in heaven and in earth.
19 Go ye therefore, and teach all nations, baptizing them in the name of the Father, and of the Son, and of the Holy Ghost:
20 Teaching them to observe all things whatsoever I have commanded you: and, lo, I am with you alway, even unto the end of the world. Amen.
Bible in One Year: Matthew 15, Mark 7
Open Heaven 18 October 2020 Sunday MESSAGE:
It is one thing to be able to gather a harvest; it is another thing entirely to preserve it. It is sad that while the Church is making valiant efforts to gather plentiful harvests through evangelism, numerous outreaches and programmes, even less and less is being done to preserve the souls won for Christ. Many souls are won for Christ on daily basis, but how many will eventually remain in the body of Christ as committed Christians?
Also see: Open Heaven 19 October 2020 – Overcoming Destiny-Threatening Enemies
In Matthew 9:37, Jesus laments the scarcity of people committed to keeping His harvest.
"Then saith he unto his disciples, The harvest truly is plenteous, but the labourers are few;"
Many Christians are like drainages – always receiving emoluments, yet without productivity. This is very dangerous as Jesus says He will take such people out of His vine.
"Every branch in me that beareth not fruit he taketh away: and every branch that beareth fruit, he purgeth it, that it may bring forth more fruit." – John 15:2
The parable of the talents teaches that the Lord expects every one of His children to diligently put their talents and special gifts into profitable use for the advancement of His Kingdom. If you fail to be fruitful or productive, then you are guilty of receiving the grace of God in vain, becoming an unprofitable servant. I pray that you will never be guilty of being an unprofitable servant in the mighty name of Jesus.
Do everything within your power to be one of the few faithful labourers of the Lord Jesus today. Work very hard to win souls for Christ, and more importantly, preserve every harvest God brings your way through the works of other evangelists.
May you not be found guilty of receiving the grace of God in vain in the mighty name of Jesus.
Open Heaven 18 October 2020 Sunday Prayer Point:
Father, please help me to win souls and preserve the great harvest for You, in the mighty name of Jesus.
Open Heaven 18 October 2020 Sunday Hymn 9: Hold The Fort
Ho, my comrades, see the signal, waving in the sky!
Reinforcements now appearing, victory is nigh.
Refrain:
"Hold the fort, for I am coming," Jesus signals still;
Wave the answer back to Heaven, "By Thy grace we will."
See the mighty host advancing, Satan leading on;
Mighty ones around us falling, courage almost gone!
See the glorious banner waving! Hear the trumpet blow!
In our Leader's Name we triumph over every foe.
Fierce and long the battle rages, but our help is near;
Onward comes our great Commander, cheer, my comrades, cheer!
Open Heavens Daily Devotional guide was written by Pastor E.A. Adeboye, the General Overseer of the Redeemed Christian Church of God, one of the largest evangelical church in the world and also the President of Christ the Redeemer's Ministries. The Open Heavens devotional application is available across all mobile platforms and operating systems: iOS, Android, Blackberry, Nokia, Windows Mobile and PC.
Flatimes Notice Board: Until you are born again, God ever abiding presence will never be with you. You must be born again to enjoy continuous victory. Please say the displayed prayer below in faith:
Lord Jesus, come into my life. I accept You as my Lord and Personal Saviour. I believe in my heart You died and rose from the dead to save me. Thank You Lord for saving me, in Jesus name Amen.
If you just prayed the prayer of salvation online please send your testimonies and prayer request to info@rccg.org, +234-1-8447340, +234-0-7098213112.