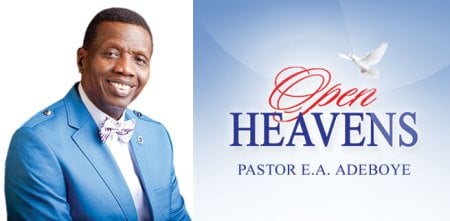 Open Heaven 19 July 2020 Sunday Daily Devotional By Pastor E. A. Adeboye – Knowledge Puffeth Up
Click HERE for Previous Open Heaven Devotional
Topic: Knowledge Puffeth Up (Open Heaven 19 July 2020)
Memorise: And if any man think that he knoweth any thing, he knoweth nothing yet as he ought to know. – 1 Corinthians 8:2
Read: John 9:39-41 (KJV)
39 And Jesus said, For judgment I am come into this world, that they which see not might see; and that they which see might be made blind.
40 And some of the Pharisees which were with him heard these words, and said unto him, Are we blind also?
41 Jesus said unto them, If ye were blind, ye should have no sin: but now ye say, We see; therefore your sin remaineth.
Bible in One Year: Hosea 1-7
Open Heaven 19 July 2020 Sunday MESSAGE:
"…Knowledge puffeth up, but charity edifieth." – 1 Corinthians 8:2
One of the biggest problems facing this generation is what is called 'too know' in Nigerian local parlance. In the past, it was the University lectures and professors who had this problem, but now that we have the internet, everyone feels very wise. Knowledge is good, but you must be careful that it does not make you puffed up. When something is puffed up, it is difficult to get anything into it because it is already full of air. One who feels he has a lot of knowledge may not be able to acquire more. If you feel like you know all about computers for example, when someone comes to teach about them, you would have the tendency to ignore the fellow. No matter how much knowledge you have, your disposition should still be that of someone who knows nothing.
Also Read: Open Heaven 20 July 2020 – The Wages of Sin Is Still Death
Several times, I have been under ministrations where the fellow ministering did so from a Bible passage that I know well, yet I learnt something new from it. A wise philosopher once said "The only thing I know is that I know nothing."
The phrase 'Knowledge puffeth up' means that the knowledgeable is often proud. God hates pride. James 4:6 say God resist the proud. To resist means to push against the enemy. When someone is teaching, and you begin to correct the fellow in your heart, watch out: pride has set in. you are calling for God's resistance.
Lastly, 'knowledge puffeth up' can also mean that the knowledgeable is so swollen up, that he goes about boasting. As we can see from Romans 1:22, some, in professing themselves to be wise, become fools. There is no wisdom is being talkative. Wise people talk only when necessary.
Get as much knowledge as you can, but never get puffed up. Just like our memory verse for today says, no matter how much you know, never think that you know it all.
Open Heaven 19 July 2020 Sunday Reflection:
Are you puffed up with your knowledge?
Open Heaven 19 July 2020 Sunday Hymn 2: All To Jesus I Surrender
1. All to Jesus I surrender,
All to Him I freely give;
I will ever love and trust Him,
In His presence daily live.
Chorus:
I surrender all,
I surrender all.
All to Thee, my blessed Savior,
I surrender all.
2. All to Jesus I surrender,
Humbly at His feet I bow,
Worldly pleasures all forsaken;
Take me, Jesus, take me now.
3. All to Jesus I surrender,
Make me, Savior, wholly Thine;
Let me feel Thy Holy Spirit,
Truly know that Thou art mine.
4. All to Jesus I surrender,
Lord, I give myself to Thee;
Fill me with Thy love and power,
Let Thy blessing fall on me.
5. All to Jesus I surrender,
Now I feel the sacred flame.
Oh, the joy of full salvation!
Glory, glory to His name!
Open Heavens Daily Devotional guide was written by Pastor E.A. Adeboye, the General Overseer of the Redeemed Christian Church of God, one of the largest evangelical church in the world and also the President of Christ the Redeemer's Ministries. The Open Heavens devotional application is available across all mobile platforms and operating systems: iOS, Android, Blackberry, Nokia, Windows Mobile and PC.
Flatimes Notice Board: Until you are born again, God ever abiding presence will never be with you. You must be born again to enjoy continuous victory. Please say the displayed prayer below in faith:
Lord Jesus, come into my life. I accept You as my Lord and Personal Saviour. I believe in my heart You died and rose from the dead to save me. Thank You Lord for saving me, in Jesus name Amen.
If you just prayed the prayer of salvation online please send your testimonies and prayer request to info@rccg.org, +234-1-8447340, +234-0-7098213112.