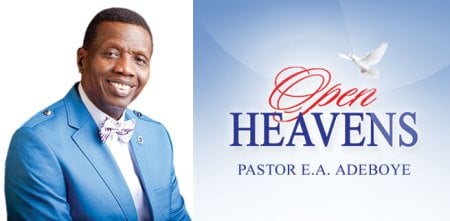 Open Heaven 19 November 2020 Thursday Daily Devotional By Pastor E. A. Adeboye – Healing for God's Children
Click HERE for Previous Open Heaven Devotional
Topic: Healing for God's Children (Open Heaven 19 November 2020)
Memorise: And said, If thou wilt diligently hearken to the voice of the LORD thy God, and wilt do that which is right in his sight, and wilt give ear to his commandments, and keep all his statutes, I will put none of these diseases upon thee, which I have brought upon the Egyptians: for I am the LORD that healeth thee. – Exodus 15:26
Scroll down for RCCG PRAYER THIRTY (30) DAYS PRAYER GUIDE
Read: Psalm 103:2-3 (KJV)
2 Bless the LORD, O my soul, and forget not all his benefits:
3 Who forgiveth all thine iniquities; who healeth all thy diseases;
Bible In One Year: Acts 11-12
Open Heaven 19 November 2020 Thursday MESSAGE:
Are you aware that it is possible for you, your friends and family members never to fall sick again? Yes, it is. For over forty years, the Lord has been my healer and He can be yours too.
According to today's memory verse, anyone who lives holy will become so dear to God that He will ensure they are never ill again. Imagine being free from all pains that sickness brings, imagine never having to spend on hospital bills ever again. God says it is possible if you begin to live holy and have faith in His healing powers.
Also See: Open Heaven 20 November 2020 – The Gospel of Christ
The Gospels give numerous accounts of how Jesus healed people of different infirmities and illnesses including blindness, deafness, leprosy, seizures and paralysis. He even raised dead people to life! Matthew 8:16 says:
"When the even was come, they brought unto him many that were possessed with devils: and he cast out the spirits with his word, and healed all that were sick."
Notice the word "all" in the above Bible verse. He has the power to heal any sickness. The only thing that can stop you from having divine health is sin. Beloved, I encourage you to run away from sin like you would from a plague.
"Afterward Jesus findeth him in the temple, and said unto him, Behold, thou art made whole: sin no more, lest a worse thing come unto thee." – John 5:14
Jesus' advice to the man at the pool of Bethesda is quite instructive. We can conclude that if he had been living a holy life before, he wouldn't have had to waste thirty-eight years of his life in the pain and discomfort of sickness. It is very likely that after hearing Jesus' warning, he would have avoided sin every way he could. However, he had already wasted thirty-eight years of his life which could not be recovered. You don't have to waste any period of your life nursing a sickness; Jesus has made you an offer: avoid sin from today and begin to live in divine health.
Open Heaven 19 November 2020 Thursday Key Point:
Sickness, more often than not is a by-product of sin.
Open Heaven 19 November 2020 Thursday Hymn 20: Nearer, My God To Thee
Nearer, my God, to Thee, nearer to Thee!
E'en though it be a cross that raiseth me,
Still all my song shall be, nearer, my God, to Thee.
Refrain:
Nearer, my God, to Thee, nearer to Thee!
Though like the wanderer, the sun gone down,
Darkness be over me, my rest a stone;
Yet in my dreams I'd be nearer, my God, to Thee.
There let the way appear, steps unto Heav'n;
All that Thou sendest me, in mercy giv'n;
Angels to beckon me nearer, my God, to Thee.
Then, with my waking thoughts bright with Thy praise,
Out of my stony griefs Bethel I'll raise;
So by my woes to be nearer, my God, to Thee.
Or, if on joyful wing cleaving the sky,
Sun, moon, and stars forgot, upward I'll fly,
Still all my song shall be, nearer, my God, to Thee.
There in my Father's home, safe and at rest,
There in my Savior's love, perfectly blest;
Age after age to be nearer, my God, to Thee.
THE REDEEMED CHRISTIAN CHURCH OF GOD DIRECTORATE OF PRAYER THIRTY (30) DAYS PRAYER GUIDE TOWARDS THE REALISATION OF A NEW NIGERIA
DAY 17: THURSDAY 19TH NOVEMBER, 2020.
TOPIC: MILITARY AND SECURITY APPARATUS
BIBLE TEXT(S): PSALMS 91:2-6, DEUT 1:15, 2 SAMUEL 8:6
INTRODUCTION.
Military are well organized armed forces, officially trained to defend the territorial integrity of a nation. These men and women need prayers in order to effectively defend the territory against external invasion and internal destruction of lives and properties.
PRAYER POINTS:
Let us worship our God who neither sleep nor slumber in watching over our nation. Psa 121:2
Let's thank God the Almighty for being the chief security officer in charge of our nation territory. Psa 127:1-2
Father; thank you for the military and all security agencies in Jesus name.
Father; we plead for your mercy over all our security personnel in any way they have taking laws into their hands and fallen short of expectations
Father; protect them and families from any form of harm in Jesus name.
Father; by Your mercy give as many of them who have not known you, your salvation for physical and eternal security in Jesus name.
Father; may you never allow strange bullet to touch them in Jesus name. Is. 54:17.
Father; cause them to be alert at all times and fortify them against the arrows of the enemy in Jesus name.
Father, give them angelic assistant to fight the enemies in Jesus name. Psa 91:11
Father, let them be full of courage and bravery in discharging their duty in Jesus name.
Father: Impart them with your wisdom and understanding and guide them in all decisions in Jesus name.
Father; do not allow our military to be depressed in their service in Jesus name Prov 24:10
Father; deliver them from alcoholism and drugs but help them to be drunk with the Holy Ghost. Pro 31:6
Father; help them not to put their trust on their ammunition but on you in Jesus name. Acts 4:12
Father, expose and disgrace the evil ones among them in Jesus name.
Father; help those under severe battle pressures, guide them to make right decisions in Jesus name. Judges 20:34
Father; heal those that have sustained injuries in the course of their duty in the name of Jesus
Father; take care of the orphans and widow of the fallen heroes that they will not be stranded in life in Jesus name
Father; in all their engagement, against internal and external enemies grant them victory at all times in Jesus name
Father; deliver them from every traps of the enemy in Jesus name.
Open Heavens Daily Devotional guide was written by Pastor E.A. Adeboye, the General Overseer of the Redeemed Christian Church of God, one of the largest evangelical church in the world and also the President of Christ the Redeemer's Ministries. The Open Heavens devotional application is available across all mobile platforms and operating systems: Apple iOS, Android, Blackberry, Samsung, Nokia, Windows Mobile and PC.
Flatimes Notice Board: Until you are born again, God ever abiding presence will never be with you. You must be born again to enjoy continuous victory. Please say the displayed prayer below in faith:
Lord Jesus, come into my life. I accept You as my Lord and Personal Saviour. I believe in my heart You died and rose from the dead to save me. Thank You Lord for saving me, in Jesus name Amen.
If you just prayed the prayer of salvation online please send your testimonies and prayer request to info@rccg.org, +234-1-8447340, +234-0-7098213112.