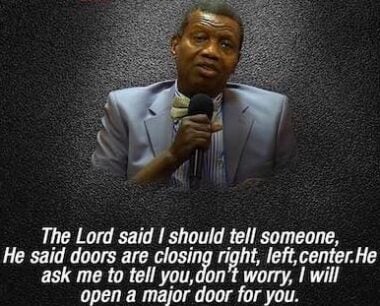 Open Heaven 24 June 2021 Thursday Daily Devotional By Pastor E. A. Adeboye – My Peace I Leave With You
Click HERE for Previous Open Heaven Devotional
OPEN HEAVEN 24 June 2021 TOPIC: My Peace I Leave With You
MEMORISE: And the peace of God, which passeth all understanding, shall keep your hearts and minds through Christ Jesus. – Philippians 4:7
READ: John 14:27 (KJV)
27 Peace I leave with you, my peace I give unto you: not as the world giveth, give I unto you. Let not your heart be troubled, neither let it be afraid.
BIBLE IN ONE YEAR: Psalm 23-30
Open Heaven 24 June 2021 MESSAGE:
Nothing tangible can be achieved in a chaotic atmosphere, organization, family or mind. This is why peace is very important. There are factors that can guarantee peace in the life of an individual, particularly a child of God. The first is genuine salvation. Sin brought about the trouble that man encountered right from the Garden of Eden. Proverbs 28:1 says:
"The wicked flee when no man pursueth: but the righteous are bold as a lion."
Also Read: OPEN HEAVEN 25 JUNE 2021 – IN SPIRIT AND IN TRUTH!
Thus, whoever desires peace must seek the Author of salvation, Jesus Christ. We see this in our memory verse for today, as well as in Matthew 11:28, in which Jesus says:
"Come unto me, all ye that labour and are heavy laden, and I will give you rest."
Apart from being born again (John 3:3,5), we must learn the ways of the Lord. He said that we should take His yoke of meekness upon ourselves and learn it through Him. Another thing we must learn is contentment, 1 Timothy 6:6 says godliness with contentment is great gain. Many people lack peace because they are not content with what they have. It is unfortunate that many so-called children of God are guilty of this; they dabble in some ungodly acts just to gain the material things of this world. Believers must beware! As good as wealth is, it does not satisfy. Ecclesiastes 5:10 says:
"He that loveth silver shall not be satisfied with silver; nor he that loveth abundance with increase: this is also vanity."
We can obtain contentment by simply enjoying the blessings of God as they come and giving glory to Him for them (Ecclesiastes 5:18-20; Psalm 103:1-5). Philippians 4:5-6 cautions believers thus:
"Let your moderation be known unto all men…Be careful for nothing; but in every thing by prayer and supplication with thanksgiving let your requests be made known unto God."
In this Scripture, we see other factors necessary to obtain peace. You have to be moderate in your lifestyle, without being anxious for anything. You must also learn to cast your cares upon God because He is more than able to take them up for you.
Open Heaven 24 June 2021 PRAYER POINT:
Father, let Your peace that passes all understanding rule my heart from today, in the mighty name of Jesus.
Open Heaven 24 June 2021 HYMN 27: We Are Never Never Weary Of The Grand Old Song.
1. We are never, never weary of the grand old song;
Glory to God, Hallelujah;
We can sing it loud as ever, with our faith more strong;
Glory to God, Hallelujah!
Refrain:
O, the children of the Lord have a right to shout and sing,
For the way is growing bright, and our souls are on the wing;
We are going by and by to the palace of the King!
Glory to God, Hallelujah!
2. We are lost amid the rapture of redeeming love
Glory to God, Hallelujah!
We are rising on its pinions to the hills above;
Glory to God, Hallelujah!
3. We are going to a palace that is built of gold;
Glory to God, Hallelujah!
Where the King in all His splendour we shall soon behold;
Glory to God, Hallelujah!
4. There we'll shout redeeming mercy in a glad, new song,
Glory to God, Hallelujah!
There we'll sing the praise of Jesus with the blood-washed throng,
Glory to God, Hallelujah!
Open Heavens 2021 Daily Devotional guide was written by Pastor E.A. Adeboye, the General Overseer of the Redeemed Christian Church of God, one of the largest evangelical church in the world and also the President of Christ the Redeemer's Ministries. The Open Heavens devotional application is available across all mobile platforms and operating systems: iOS, Android, Blackberry, Nokia, Windows Mobile and PC.
Flatimes Notice Board: Until you are born again, God ever abiding presence will never be with you. You must be born again to enjoy continuous victory. Please say the displayed prayer below in faith:
Lord Jesus, come into my life. I accept You as my Lord and Personal Saviour. I believe in my heart You died and rose from the dead to save me. Thank You Lord for saving me, in Jesus name Amen.
If you just prayed the prayer of salvation online please send your testimonies and prayer request to info@rccg.org, +234-1-8447340, +234-0-7098213112.