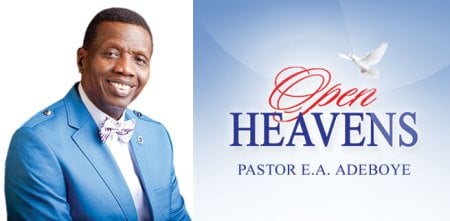 Open Heaven 27 December 2020 Sunday Daily Devotional By Pastor E. A. Adeboye – The Power Of Physical Fellowship
Click HERE for Previous Open Heaven Devotional
Topic: The Power Of Physical Fellowship (Open Heaven 27 December 2020)
Memorise: I was glad when they said unto me, Let us go into the house of the LORD. – Psalm 122:1
Read: Psalm 122:1-2 (KJV)
1 I was glad when they said unto me, Let us go into the house of the LORD.
2 Our feet shall stand within thy gates, O Jerusalem.
Bible In One Year: Revelation 1-5
Open Heaven 27 December 2020 Sunday MESSAGE:
Technology is a good thing; it is very effective in enhancing the worship experience, but it must be used with caution so it does not rob us of the worship experience that we need. There is a new trend now where people prefer to sit at home and connect to a service through their Television, a website or social media. Believe me, what you get while watching through these means can never be the same as when you attend the service physically, especially if there is really nothing stopping you from doing so.
Also See: Open Heaven 28 December 2020 – Prayer For Year 2021
When you connect to a service from home, you are prone to lots of distractions. Someone could knock on your door and distract you; you could even remember something you wanted to do and decide to do it while still watching the service. You could also decide to cook while watching the service, meaning whenever you are attending to the food, you are missing something. On the other hand, when you attend the service physically, you have few or no distractions as you and everyone around you have only one focus – God. More importantly however, is the atmosphere of worship; being in that Spirit-filled environment should not be traded for anything. The fire from the fellow beside you who is praying or worshiping will ignite yours and you would reach realms you could not have attained had you been sitting at home to watch the service. Jesus said:
"For where two or three are gathered together in my name, there am I in the midst of them." – Matthew 18:20
Watching Him move in the midst of a group of people gathered in His name can give you a bit of the action, but it can never be the same as when you are physically present amongst the group. So, except there is absolutely no way you can attend the service based on circumstances beyond your control, it is better that you attend Christian fellowships physically. As you do so, the power of God's Spirit will locate and lift you, in the mighty name of Jesus.
Open Heaven 27 December 2020 Sunday Action Point:
Attend services physically and make use of digital platforms only when necessary.
Open Heaven 27 December 2020 Sunday Hymn 20: Nearer, My God To Thee
Nearer, my God, to Thee, nearer to Thee!
E'en though it be a cross that raiseth me,
Still all my song shall be, nearer, my God, to Thee.
Refrain:
Nearer, my God, to Thee, nearer to Thee!
Though like the wanderer, the sun gone down,
Darkness be over me, my rest a stone;
Yet in my dreams I'd be nearer, my God, to Thee.
There let the way appear, steps unto Heav'n;
All that Thou sendest me, in mercy giv'n;
Angels to beckon me nearer, my God, to Thee.
Then, with my waking thoughts bright with Thy praise,
Out of my stony griefs Bethel I'll raise;
So by my woes to be nearer, my God, to Thee.
Or, if on joyful wing cleaving the sky,
Sun, moon, and stars forgot, upward I'll fly,
Still all my song shall be, nearer, my God, to Thee.
There in my Father's home, safe and at rest,
There in my Savior's love, perfectly blest;
Age after age to be nearer, my God, to Thee.
Open Heavens Daily Devotional guide was written by Pastor E.A. Adeboye, the General Overseer of the Redeemed Christian Church of God, one of the largest evangelical church in the world and also the President of Christ the Redeemer's Ministries. The Open Heavens devotional application is available across all mobile platforms and operating systems: iOS, Android, Blackberry, Nokia, Windows Mobile and PC.
Flatimes Notice Board: Until you are born again, God ever abiding presence will never be with you. You must be born again to enjoy continuous victory. Please say the displayed prayer below in faith:
Lord Jesus, come into my life. I accept You as my Lord and Personal Saviour. I believe in my heart You died and rose from the dead to save me. Thank You Lord for saving me, in Jesus name Amen.
If you just prayed the prayer of salvation online please send your testimonies and prayer request to info@rccg.org, +234-1-8447340, +234-0-7098213112.