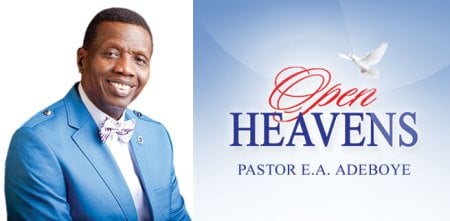 Open Heaven 27 September 2020 Sunday Daily Devotional By Pastor E. A. Adeboye – Challenged, Not Defeated
Click HERE for Previous Open Heaven Devotional
Topic: Challenged, Not Defeated (Open Heaven 27 September 2020)
Memorise: For our light affliction, which is but for a moment, worketh for us a far more exceeding and eternal weight of glory; – 2 Corinthians 4:17
Read: 2 Corinthians 4:8-12 (KJV)
8 We are troubled on every side, yet not distressed; we are perplexed, but not in despair;
9 Persecuted, but not forsaken; cast down, but not destroyed;
10 Always bearing about in the body the dying of the Lord Jesus, that the life also of Jesus might be made manifest in our body.
11 For we which live are alway delivered unto death for Jesus' sake, that the life also of Jesus might be made manifest in our mortal flesh.
12 So then death worketh in us, but life in you.
Bible in One Year: Nehemiah 8-10
Open Heaven 27 September 2020 Sunday MESSAGE:
"If the world hate you, ye know that it hated me before it hated you." – John 15:18
You must be aware that the moment you say yes to Jesus, you have signed up for persecution. Buy mentioning His name alone, you could develop enemies. Yet, He doesn't want you to worry because He has overcome the world (John 16:33). If as a Christian, you don't go through any persecution, you may need to check your salvation. Jesus said:
"Woe unto you, when all men shall speak well of you! for so did their fathers to the false prophets." – Luke 6:26
Also Read: Open Heaven 28 September 2020 – God's Standard: Sure, And Steadfast
Every true Christian will face persecution: at the office, in the family, amongst friends or with strangers. What matters is how you handle it. Some go back to the world because they cannot stand while some others get stronger after going through it. Which category are you in?
Be deliberate about increasing your spiritual strength. Study your Bible more, pray more and be regular at fellowship with brethren. This is because surely, your spiritual strength will be tested someday (Proverbs 24:10). On such a day, it is how much of God you have in you that will determine your action.
Those who pray in tongue regularly are supernaturally empowered to withstand any form of persecution. This is why Paul did not relent in preaching the gospel despite all the persecution he went through; he remained steadfast. Peter denied Jesus before he was baptized in the Holy Ghost, but as soon as the Holy Ghost came upon him, he endured persecution and described it as a good thing (Acts 5:41).
No matter how much the devil challenges you, do not yield. No matter how much you have been threatened to accept bribe to manipulate figures, stand strong. As long as you stand with Christ, you would never be defeated. He has already overcome the world.
Open Heaven 27 September 2020 Sunday Prayer Point:
Father, give me strength to withstand any persecution the devil brings my way in the mighty name of Jesus.
Open Heaven 27 September 2020 Sunday Hymn 24: Pass Me Not, O Gentle Saviour
1. Pass me not, O gentle Savior;
hear my humble cry;
while on others thou art calling,
do not pass me by.
Refrain:
Savior, Savior,
hear my humble cry;
while on others thou art calling,
do not pass me by.
2. Let me at thy throne of mercy
find a sweet relief;
kneeling there in deep contrition,
help my unbelief. [Refrain]
3. Trusting only in thy merit,
would I seek thy face;
heal my wounded, broken spirit,
save me by thy grace. [Refrain]
4. Thou the spring of all my comfort,
more than life to me,
whom have I on earth beside thee?
Whom in heaven but thee? [Refrain]
Open Heavens Daily Devotional guide was written by Pastor E.A. Adeboye, the General Overseer of the Redeemed Christian Church of God, one of the largest evangelical church in the world and also the President of Christ the Redeemer's Ministries. The Open Heavens devotional application is available across all mobile platforms and operating systems: iOS, Android, Blackberry, Nokia, Windows Mobile and PC.
Flatimes Notice Board: Until you are born again, God ever abiding presence will never be with you. You must be born again to enjoy continuous victory. Please say the displayed prayer below in faith:
Lord Jesus, come into my life. I accept You as my Lord and Personal Saviour. I believe in my heart You died and rose from the dead to save me. Thank You Lord for saving me, in Jesus name Amen.
If you just prayed the prayer of salvation online please send your testimonies and prayer request to info@rccg.org, +234-1-8447340, +234-0-7098213112.