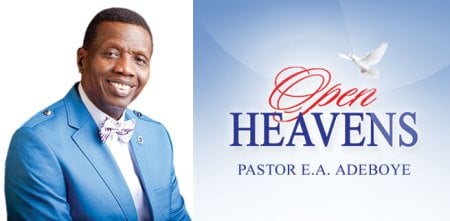 Open Heaven 30 May 2020 Saturday Daily Devotional By Pastor E. A. Adeboye – Make Soulwinning Your Lifestyle
Click HERE for Previous Open Heaven Devotional
Topic: Make Soulwinning Your Lifestyle (Open Heaven 30 May 2020)
Memorise: The fruit of the righteous is a tree of life; and he that winneth souls is wise. – Proverbs 11:30
Read: Luke 10:1-3 (KJV)
1 After these things the Lord appointed other seventy also, and sent them two and two before his face into every city and place, whither he himself would come.
2 Therefore said he unto them, The harvest truly is great, but the labourers are few: pray ye therefore the Lord of the harvest, that he would send forth labourers into his harvest.
3 Go your ways: behold, I send you forth as lambs among wolves.
Bible in One Year: 1 Kings 3-4, 2 Chronicles 1, Psalms 72
Open Heaven 30 May 2020 Saturday MESSAGE:
Despite all your endeavours, if you are not actively winning souls, you are courting fruitlessness, and believe me, you don't want to face the consequences of being fruitless, as stated in John 15:1-2:
"I am the true vine, and my Father is the husbandman. Every branch in me that beareth not fruit he taketh away: and every branch that beareth fruit, he purgeth it, that it may bring forth more fruit."
Also Read: Open Heaven 31 May 2020 – Don't Lose Confidence In Christ
If you are wise, you will make soul winning a priority in everything you do. When churches organize programmes with great crowds gathered and at the end of the day, there is no call for salvation, I just think "what a waste of time, effort and money." What is the essence of doing anything at all in the Church if it will not ultimately lead more people to heaven? What is the essence of organizing concerts, doing jamboree and shouting to praise the Most High God if we do not prioritize His very heart beat – bringing lost souls back to His Kingdom? If you are a leader in any capacity in the body of Christ, I am speaking to you now. Whatever you are planning to organize in the Church that will not ultimately win souls to God's kingdom or help already won souls to stand more firmly for God is a complete waste of time. If you are not bearing fruits, God Himself will take you away from the Vine. What a fearful thing it is if God Himself separates you from Jesus Christ!
In your secular activities too, you must use every opportunity to win souls. Imagine how many terrorists would have been won to Christ, imagine how many parents of wayward children would have trained their children on the right path, if we had been using every available opportunity to win souls.
Anytime I am invited for honorary awards anywhere around the world, as long as I have that microphone in my hand and a few seconds to talk, I will appreciate the giver of the award and remind them that Jesus is coming soon with His own reward. No matter where you are, no matter who you are, no matter what you do, make soulwinning your lifestyle.
Open Heaven 30 May 2020 Saturday Reflection:
How well do you use all platforms at your disposal to win souls into the Kingdom of God?
Open Heaven 30 May 2020 Saturday Hymn 12: I Am Thine Oh Lord
1.I am Thine, O Lord,
I have heard Thy voice,
And it told Thy love to me;
But I long to rise in the arms of faith
And be closer drawn to Thee.
Chorus:
Draw me nearer, nearer blessed Lord,
To the cross where Thou hast died;
Draw me nearer, nearer, nearer blessed Lord,
To Thy precious, bleeding side.
2.Consecrate me now to Thy service, Lord,
By the pow'r of grace divine;
Let my soul look up with a steadfast hope,
And my will be lost in Thine.
3.Oh, the pure delight of a single hour
That before Thy throne I spend,
When I kneel in prayer, and with Thee, my God
I commune as friend with friend!
4.There are depths of love that I cannot know
Till I cross the narrow sea;
There are heights of joy that I may not reach
Till I rest in peace with Thee.
Open Heavens Daily Devotional guide was written by Pastor E.A. Adeboye, the General Overseer of the Redeemed Christian Church of God, one of the largest evangelical church in the world and also the President of Christ the Redeemer's Ministries. The Open Heavens devotional application is available across all mobile platforms and operating systems: iOS, Android, Blackberry, Nokia, Windows Mobile and PC.
Flatimes Notice Board: Until you are born again, God ever abiding presence will never be with you. You must be born again to enjoy continuous victory. Please say the displayed prayer below in faith:
Lord Jesus, come into my life. I accept You as my Lord and Personal Saviour. I believe in my heart You died and rose from the dead to save me. Thank You Lord for saving me, in Jesus name Amen.
If you just prayed the prayer of salvation online please send your testimonies and prayer request to info@rccg.org, +234-1-8447340, +234-0-7098213112.