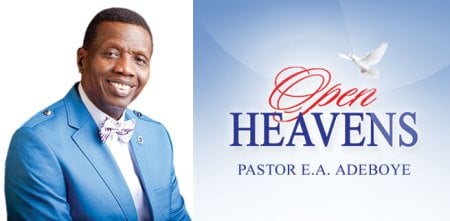 Open Heaven 4 July 2020 Saturday Daily Devotional By Pastor E. A. Adeboye – What Is Your Focus?
Click HERE for Previous Open Heaven Devotional
Topic: What Is Your Focus? (Open Heaven 4 July 2020)
Memorise: Set your affection on things above, not on things on the earth. – Colossians 3:2
Read: Colossians 3:1-4 (KJV)
1 If ye then be risen with Christ, seek those things which are above, where Christ sitteth on the right hand of God.
2 Set your affection on things above, not on things on the earth.
3 For ye are dead, and your life is hid with Christ in God.
4 When Christ, who is our life, shall appear, then shall ye also appear with him in glory.
Bible in One Year: 2 Kings 12-13, 2 Chronicles 24
Open Heaven 4 July 2020 Saturday MESSAGE:
I was a Mathematics lecturer before I went into fulltime ministry and I know that in every class I taught, while there may have been many students there, not everyone's focus was on understanding what was being taught. Some students were focused on the lecturer's clothes, some on how he spoke, some on impressing the other students and so on.
Also Read: Open Heaven 5 July 2020 – We Are Going Higher: Fasting
The same applies in the Kingdom of God. Many people call themselves Christians, but only a few have the right focus. All some people want from God is a new car, a new house, promotion and so on. I pity such people because they will get what they are focused on and lose out on the more important things. Jesus Christ, in Matthew 6:33 says:
"But seek ye first the kingdom of God, and his righteousness; and all these things shall be added unto you."
I am a living testimony of the efficacy of this scripture. I set my focus on the Kingdom of God and His righteousness, and now I can't count how many of these other things I have. The good part is that I am also on my way to Heaven.
Focus on pleasing God; stop chasing shadows and pursue the substance. If you get the substance, you will automatically get the shadow too. Many people never reach the heights that God has ordained for them because somewhere along the line, they take their focus away from heaven and start pursuing material things.
Ask anyone who has had a near death experience: they will tell you that material things, flashy as they may seem are not worth all the attention given to them. From now, make Paul's admonition in 2 Corinthians 4:18 your lifestyle:
"While we look not at the things which are seen, but at the things which are not seen: for the things which are seen are temporal; but the things which are not seen are eternal."
Open Heaven 4 July 2020 Saturday Reflection:
Search your heart: What is really your focus as a Christian?
Open Heaven 4 July 2020 Saturday Hymn 19: My Hope Is Built In Nothing Less
My hope is built on nothing less
Than Jesus Christ, my righteousness;
I dare not trust the sweetest frame,
But wholly lean on Jesus' name.
Chorus:
On Christ, the solid Rock, I stand;
All other ground is sinking sand,
All other ground is sinking sand.
When darkness veils His lovely face,
I rest on His unchanging grace;
In every high and stormy gale,
My anchor holds within the veil.
His oath, His covenant, His blood,
Support me in the whelming flood;
When all around my soul gives way,
He then is all my hope and stay.
When He shall come with trumpet sound,
Oh, may I then in Him be found;
In Him, my righteousness, alone,
Faultless to stand before the throne.
Open Heavens Daily Devotional guide was written by Pastor E.A. Adeboye, the General Overseer of the Redeemed Christian Church of God, one of the largest evangelical church in the world and also the President of Christ the Redeemer's Ministries. The Open Heavens devotional application is available across all mobile platforms and operating systems: iOS, Android, Blackberry, Nokia, Windows Mobile and PC.
Flatimes Notice Board: Until you are born again, God ever abiding presence will never be with you. You must be born again to enjoy continuous victory. Please say the displayed prayer below in faith:
Lord Jesus, come into my life. I accept You as my Lord and Personal Saviour. I believe in my heart You died and rose from the dead to save me. Thank You Lord for saving me, in Jesus name Amen.
If you just prayed the prayer of salvation online please send your testimonies and prayer request to info@rccg.org, +234-1-8447340, +234-0-7098213112.