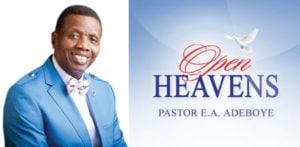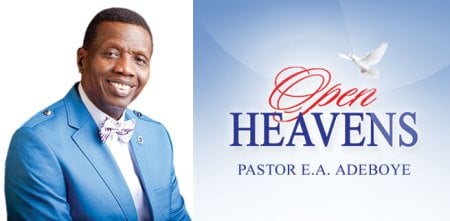 Topic: Adversity Can Be Deceptive [Open Heavens 17 July 2018 Tuesday Daily Devotional]
Memorise: Therefore Sarah laughed within herself, saying, After I am waxed old shall I have pleasure, my lord being old also? – Genesis 18:12
Read: Genesis 21:1-7 (KJV)
1 And the LORD visited Sarah as he had said, and the LORD did unto Sarah as he had spoken.
2 For Sarah conceived, and bare Abraham a son in his old age, at the set time of which God had spoken to him.
3 And Abraham called the name of his son that was born unto him, whom Sarah bare to him, Isaac.
4 And Abraham circumcised his son Isaac being eight days old, as God had commanded him.
5 And Abraham was an hundred years old, when his son Isaac was born unto him.
6 And Sarah said, God hath made me to laugh, so that all that hear will laugh with me.
7 And she said, Who would have said unto Abraham, that Sarah should have given children suck? for I have born him a son in his old age.
Bible in One Year: 2 Chronicles 30-31, Matthew 2:1-18
Open Heavens 17 July 2018 Tuesday MESSAGE:
One of the reasons why we Christians are so special is that we serve a God with whom nothing is impossible. There is no such thing like a hopeless case with our God. In this regard, I have learnt many great and wonderful lessons in my time as the General Overseer of the Redeemed Christian Church of God (RCCG). By the grace of God, I have witnessed how God transformed His church from a humble beginning of about 40 small parishes in 1980 to where we are today all over the world. I deliberately used the word "witnessed", because leaving my lecturer job at the university to become General Overseer of the RCCG at that time exemplified madness to most observers. More so, it wasn't anything I did in particular that led to the miracles, signs, wonders and astronomical growth experienced by the church over the years. I know that I cannot explain it; I only witnessed it like every other person. Obviously, it is the Lord's doing, and it is marvelous in our eyes (Mark 12:11).
Adversity can indeed be deceptive. Esther became an orphan at a very early age, and she was taken into captivity alongside her uncle Mordecai. Life was truly looking bleak for her, but by God's providence she became a queen in foreign land (Esther 2). Joseph also was sold into slavery by his brothers out of envy and he later found himself in prison for an offense he did not commit (Genesis 39-41). However, in spite of all this, he became the prime minister of the whole realm of the Egyptian empire. I pray that wherever you are on the ladder of life today, the power of God will move you to where He has destined you to be in Jesus' Name. Some years ago, the condition of a sick woman on admission in a hospital in Lagos got considerably worse, and the doctors told her family she had just few hours to live. On hearing this, her husband left her in the hospital and took his mistress to their matrimonial home. Unfortunately for him, his wife was prayed for, and she got miraculously healed a few hours after he had left her in the hospital. He was shocked beyond words when she showed up unexpectedly at their home, interrupting his lustful escapade. This story may sound unbelievable, but it is a true story. I therefore decree that all those who think you are finished and those who think you cannot amount to anything in life will soon join you to celebrate your breakthrough in Jesus' Name. Paul and Silas were locked up in the inner prison and their feet were fastened in the stocks. They lost the freedom to do many things, but they were free to worship and pray to God. So, they decided to use the only freedom they had to the fullest. As they prayed, and sang praises to God at midnight, there was a great earthquake that immediately transformed them into lords of their captors (Acts 16:22-34). What the Lord did for them, He will also do for you in Jesus' Name.
Prayer Point: Father, please deliver me from every wicked scheme of the enemy today in Jesus' Name.
Also Read: Open Heavens 16 July 2018 Monday Daily Devotional by Pastor Adeboye — More Than Enough Accommodation!
Open Heavens 17 July 2018 Tuesday Hymn 11: O God Our Help In Ages Past
1. O God, our help in ages past,
Our hope for years to come,
Our shelter from the stormy blast,
And our eternal home.
2. Under the shadow of Thy throne
Thy saints have dwelt secure;
Sufficient is Thine arm alone,
And our defense is sure.
3. Before the hills in order stood,
Or earth received her frame,
From everlasting Thou art God,
To endless years the same.
4. A thousand ages in Thy sight
Are like an evening gone;
Short as the watch that ends the night
Before the rising sun.
5. Time, like an ever-rolling stream,
Bears all its sons away;
They fly, forgotten, as a dream
Dies at the op'ning day.
6. O God, our help in ages past,
Our hope for years to come,
Be Thou our guard while troubles last,
And our eternal home.
Open Heavens 17 July 2018 Tuesday Daily Devotional guide was written by Pastor E.A. Adeboye, the General Overseer of the Redeemed Christian Church of God, one of the largest evangelical church in the world and also the President of Christ the Redeemer's Ministries. The Open Heavens devotional application is available across all mobile platforms and operating systems: iOS, Android, Blackberry, Nokia, Windows Mobile and PC.
Flatimes Notice Board: Until you are born again, God ever abiding presence will never be with you. You must be born again to enjoy continuous victory. Please say the displayed prayer below in faith:
Lord Jesus, come into my life. I accept You as my Lord and Personal Saviour. I believe in my heart You died and rose from the dead to save me. Thank You Lord for saving me, in Jesus name Amen.
If you just prayed the prayer of salvation online please send your testimonies and prayer request to contact@faithoyedepo.org, 07026385437 OR 08141320204.