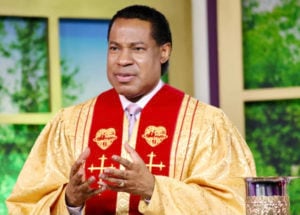 Rhapsody Of Realities 19 November 2023 By Pastor Chris Oyakhilome (Christ Embassy): Build And Use Your Own Faith
Click HERE for Previous MESSAGES
TOPIC: Build And Use Your Own Faith (Rhapsody of Realities 19 November 2023)
And he said unto them, Where is your faith?… (Luke 8:25)
Rhapsody Of Realities For Today MESSAGE:
Sometimes, as long as you're under the cover of someone else, that person may exercise authority over you and your circumstances and it'll produce results, to a certain degree. For example, as a young Christian many years ago, I went on a trip with a friend of mine and a couple of others. We had some preaching engagements.
This happened at a time when I used to experience serious stomach problems. So while we were on this trip, I wouldn't eat anything because I would throw up whatever I ate within a few minutes of eating it. I had to watch others eat until my friend, who couldn't take it anymore, asked me: "Are you fasting?"
Also Read: Open Heaven 19 November 2023 – Dress Decently
I opened up and explained the situation to him and he said to me, "In that case, as long as we're together on this trip, you'll not have any problem with your stomach; eat." I yielded myself immediately to his words, more like riding on his faith, and started eating normally.
And guess what? There was no problem throughout the trip. But when I got back home, the very first thing l'd eat, I threw it all up. The stomach trouble resurfaced. I understood exactly what happened. I submitted myself to my friend's authority throughout that journey, and it worked.
But there's just how far such faith can go in helping you deal with life's issues. I realized I had to put my own faith to work and when I did, I got the victory. You've got to keep growing your own faith by increasing your knowledge of the Word and strengthening it by putting it to work. Life is spiritual and you're responsible for your life—the things that happen with you.
When the disciples ran to Jesus in desperation during the turmoil on the sea, as read in our theme verse, Jesus asked them, "Where is your faith?" He made them realize they could have done something about the situation without necessarily coming to Him.
It makes no difference what has happened or is happening with your finances, job, health or in any area of your life; don't fret or cry for help! Use your faith. Declare words of faith. The Bible says, "Through faith we understand that the worlds were framed by the word of God, so that things which are seen were not made of things which do appear" (Hebrews 11:3).
With your faith affirmations, you can repair, arrange and reconstruct things and circumstances to synchronize with God's perfect will for your life.
CONFESSION
It makes no difference what has happened or is happening around me; with the Word of God on my lips, I repair, arrange and reconstruct things in line with God's perfect will. With my faith, I frame my life in the path of glory and excellence. I'm healthy and strong! Glory to God!
FURTHER STUDY:
Mark 11:23 – For verily I say unto you, That whosoever shall say unto this mountain, Be thou removed, and be thou cast into the sea; and shall not doubt in his heart, but shall believe that those things which he saith shall come to pass; he shall have whatsoever he saith.
Hebrews 10:38 – Now the just shall live by faith: but if [any man] draw back, my soul shall have no pleasure in him.
Matthew 17:20 – And Jesus said unto them, Because of your unbelief: for verily I say unto you, If ye have faith as a grain of mustard seed, ye shall say unto this mountain, Remove hence to yonder place; and it shall remove; and nothing shall be impossible unto you.
1 YEAR BIBLE READING PLAN
James 2-3:1-13 & Ezekiel 20-21
2 YEAR BIBLE READING PLAN
John 13:1-11 & 1 Chronicles 19
Remember to share with all your friends and loved ones today. Thank you and God bless you richly
Rhapsody of Realities 2023 Devotional was written by Pastor Pastor Chris Oyakhilome (D.Sc., D.D.). President of Loveworld Inc. aka Christ Embassy Int'l.