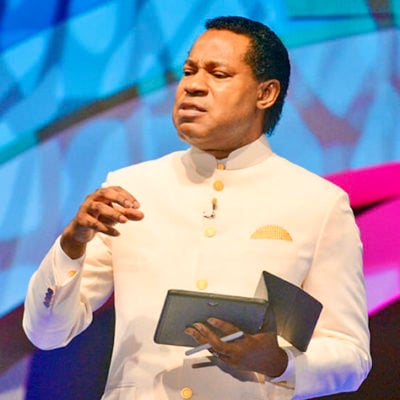 Rhapsody Of Realities 6 December 2021 By Pastor Chris Oyakhilome (Christ Embassy): Be Inspired By His Hope
Click HERE for Previous MESSAGES
TOPIC: Be Inspired By His Hope (Rhapsody of Realities 6 December 2021)
SCRIPTURE: And hope maketh not ashamed; because the love of God is shed abroad in our hearts by the Holy Ghost which is given unto us (Romans 5:5).
The Bible shows us that "hope" is one of the principles that'll exist in the world to come. Hope is the ability to expect and to project into the future. Jesus demonstrated hope in His beautiful and inspiring prayer in John 17, as He committed His disciples into the Father's hands. He said, "Neither pray I for these alone, but for them also which shall believe on me through their word" (John 17:20).
Click HERE To Download Rhapsody of Realities December 2021 Free PDF
It's amazing how Jesus trusted the Father with His hopes for the future of His disciples and those who would believe in Him through their witness. He not only had faith, but hope as well. He looked to the Father, with hope. What an inspiration!
There's another instance where He demonstrated such great hope. That was when He prayed with great anguish and agony of soul in the Garden of Gethsemane, such that sweat came out of His body like great drops of blood. But I want you to notice the content of His prayers. The Bible says He prayed, "…O my Father, if it be possible, let this cup pass from me: nevertheless not as I will, but as thou wilt" (Matthew 26:39).
Jesus was a man of faith, but in this context, He was hopeful. He endured the Cross because of the outcome of His hope. He demonstrated hope while He hung on the Cross; hope even in death! This is the Christ that Paul referred to when he announced, "Therefore if any man be in Christ, he is a new creature: old things are passed away; behold, all things are become new" (2 Corinthians 5:17).
Now, you're in Him and can therefore be hopeful in the Father as He was, even in the face of death. Can you be hopeful in prayer that those who openly oppose Christ can truly believe and turn their hearts to Him like Saul of Tarsus, and receive salvation for their souls by the power of the Holy Ghost?
Learn the value of hope. The Word declares that "hope doesn't disappoint, because of God's love in our hearts" (Romans 5:5). Be inspired by His hope! That hope, the Bible says, is an anchor for the soul: "That by two immutable things, in which it was impossible for God to lie, we might have a strong consolation, who have fled for refuge to lay hold upon the hope set before us: Which hope we have as an anchor of the soul, both sure and steadfast…" (Hebrews 6:18- 19). Hallelujah!
PRAYER
Dear Father, through your Word, I'm hopeful that my victories, triumphs and accomplishments are abiding. I pray for souls around the world, that great grace be directed towards them and that the work of salvation be wrought in their lives as they hear the Gospel, to the praise and glory of your Name. Hallelujah!
FURTHER STUDY:
Romans 4:18 (KJV)
Who against hope believed in hope, that he might become the father of many nations, according to that which was spoken, So shall thy seed be.
Hebrews 6:19 (AMPC)
[Now] we have this [hope] as a sure and steadfast anchor of the soul [it cannot slip and it cannot [a]break down under whoever steps out upon it—a hope] that reaches [b]farther and enters into [the very certainty of the Presence] within the veil,
Psalm 71:14 (KJV)
But I will hope continually, and will yet praise thee more and more.
1-YEAR BIBLE READING PLAN
3 John & Daniel 7-8
2-YEAR BIBLE READING PLAN
John 18:10-18 & 2 Chronicles 13-14
Rhapsody of Realities 2021 Devotional was written by Pastor Pastor Chris Oyakhilome (D.Sc., D.D.). President of Loveworld Inc. aka Christ Embassy Int'l.