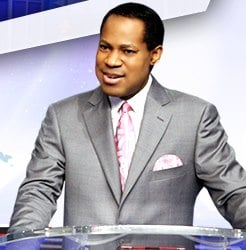 Rhapsody of Realities 18 February 2020 By Pastor Chris Oyakhilome — Receive
Click HERE for Previous MESSAGES
Topic: Receive
…much more they which receive abundance of grace and of the gift of righteousness shall reign in life by one, Jesus Christ (Romans 5:17).
Once, I was about to minister to someone who's been sick and confined to a wheelchair for years. I asked him, "Will you be healed today?" He said, "Yes, of course." Then I said, "What will happen when I pray for you now?" He said, "I'll walk and I'll run." So, I placed my hands on him and said, "You're healed." Immediately, he jumped out of the wheelchair, staggered a little and was perfect. Hallelujah!
Now, when I said to him, "You're healed," he didn't wait for anything more; he received instantly. That was his role: to receive. Giving is one thing, but receiving is another. Many don't seem to know how to receive. Receiving is by faith; it's with your spirit, and it's not something you do passively. The Greek word is "lambano," and it means to take active possession; to reach out, take a hold of something and make it yours.
In Acts 3:6, Peter addressed a man who was crippled from birth and said, "…silver and gold have I none; but such as I have give I thee: In the name of Jesus Christ of Nazareth rise up and walk." In verse 7, we read that Peter took the crippled man by the hand and yanked him up. The Bible says, "…immediately his feet and ankle bones received strength. And he leaping up stood, and walked…" (Acts 3:7-8). The man could have said to Peter, "Please don't pull me up, my legs are too feeble to carry me"; no! He received. Hallelujah!
We've been given all things that pertain to life and godliness; all spiritual blessings that exist in Christ Jesus. Receive. If there's no receiving from your end, it amounts to nothing. Your response to God and His Word is the proof that you've received. And that is what faith is: the response of the human spirit to the Word of God. The change you desire in your life, finances, health and family have already taken place; receive and act accordingly.
PRAYER:
Dear heavenly Father, I thank you for the blessings I receive from acting my faith on your Word. As I speak in accordance with your Word and walk in its light, I'm led forth with peace, maintaining my victory and dominion in Christ. I'm making progress by the Word today, confident in its ability to put me over and cause me to excel in all I do, in Jesus' Name. Amen.
FURTHER STUDY:
Mark 7:7-8; Howbeit in vain do they worship me, teaching [for] doctrines the commandments of men. For laying aside the commandment of God, ye hold the tradition of men, [as] the washing of pots and cups: and many other such like things ye do.
Mark 11:24; Therefore I say unto you, What things soever ye desire, when ye pray, believe that ye receive [them], and ye shall have [them].
James 1:22-25; But be ye doers of the word, and not hearers only, deceiving your own selves. For if any be a hearer of the word, and not a doer, he is like unto a man beholding his natural face in a glass: For he beholdeth himself, and goeth his way, and straightway forgetteth what manner of man he was. But whoso looketh into the perfect law of liberty, and continueth [therein], he being not a forgetful hearer, but a doer of the work, this man shall be blessed in his deed.
1-YEAR BIBLE READING PLAN:
Mark 3:13-35 & Leviticus 13-14
2-YEAR BIBLE READING PLAN:
Acts 19:21-29 & Psalm 27-28
Rhapsody of Realities 18th February 2020 Devotional was written by Pastor Pastor Chris Oyakhilome (D.Sc., D.D.). President of Loveworld Inc. aka Christ Embassy Int'l.