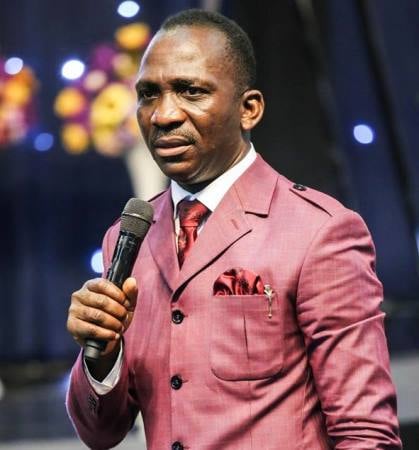 Righteousness and Riches By Pastor Paul Enenche
Click HERE for Previous MESSAGES by Pastor Paul Enenche
HEALING, DELIVERANCE AND BREAKTHROUGH SUNDAY SERVICE – 22ND SEPTEMBER 2019
ANCHOR SCRIPTURE(S): PSALM 37:25-26; JOB 36:11; PSALM 35:27; DEUTERONOMY 28:1-2; PSALM 112:1-3; 5:12
MESSAGE TOPIC: RIGHTEOUSNESS AND RICHES
BY: DR. PAUL ENENCHE
SERVICE OBJECTIVES:
Understanding the relationship between righteousness and riches
Understanding wrong financial practices to avoid
Righteousness is combinable with riches; in fact righteousness facilitates riches (Job 36:11)
Integrity undergirds prosperity; financial integrity will facilitate Kingdom prosperity
Holiness brings wholeness (Nothing lacking, missing or wanting)
SCRIPTURAL EXAMPLES OF PEOPLE WHO HAD CHARACTER AND RICHES:
Job (Job 1:1,3)
Job was righteous and he had riches
Joseph (Gen 39:6,21-22, 41:39-44)
Righteousness facilitates the commitment of God in the life of man
Unrighteousness hinders Divine supplies
It is impossible to be unrighteous financially and expect supplies from God (Prov. 13:11)
The principles of God combined with principles of the world will neutralize themselves
Abraham (Gen. 14:21-25; 13:2; 24:1)
Daniel (Dan. 1:8; 6:10; 2:48)
Integrity will not reduce, it will enhance; character is not a minus, it is a plus
Uzziah (2Chron. 26:5)
Joseph of Arimathaea (Matt. 27:57)
On the other hand, unrighteousness frustrates Divine supplies. God will never enrich the crooked, He will never empower the fraudulent (Jer. 17:11; Jer. 22:13)
Ill-gotten wealth has no future; unjust means of income lacks destiny
Whatever does not come legitimately lacks durability
Whatever you do not get by right, by favour or by labour does not enhance your life; it holds for you no future
Whatever is built on unrighteousness attracts the curse of God
Avoid financial practices if you expect supernatural supplies
Also Read: Reigning Through Righteousness (3) By Pastor Paul Enenche
SCRIPTURAL EXAMPLES OF PEOPLE WHO WERE UNRIGHTEOUS FINANCIALLY:
Adam (Gen. 3:1-7, 23-24)
Achan (Josh. 7:20-25)
Anything that is not yours will corrupt what is yours; what is not your possession by right is targeted at destroying what is yours from God
It is very critical to avoid ungodly, unwholesome and unrighteous practice for the sake of your life on earth and eternity in Heaven
FINANCIAL PRACTICES AND DEALINGS TO AVOID:
Avoid taking possession of what does not belong to you (Eph. 4:28; Zech. 5:1-4)
Anything that does not belong to you will not add to you, it will only subtract from you
Avoid defrauding or cheating others to increase your means (Lev. 19:13a; 1Thess. 4:6)
Anything that does not belong to you will not add to you, it will only subtract from you
Avoid the oppression of the poor and less privileged for financial gain (Lev. 19:13; Jer. 22:13)
Avoid the adulteration of products or the falsification of measure (balances) for the purpose of gain (Prov. 28:8; Lev. 19:35-36)
Avoid the falsification of purchase evidences or receipts for financial gain (Psalm 7:14-16; Rev. 21:27)
Avoid the act of bribery (giving or receiving) for financial or other advantages (Job 15:34; Amos 5:12)
Avoid the keeping back of change or balance that is meant to be returned or retired (Acts 5:1-3; 1Thess. 4:6)
Every time you take something that is not yours, that thing is making sound in the ears of God
Avoid doing low quality jobs in order to magnify financial gains (Eccl. 9:10)
Every time you are given a task, do it with the best of your energy
Avoid every form of blood or evil money (1Tim. 6:10; Jer. 22:13, 17)
Any money that you get that defiles your conscience, will deny you your destiny
CONCLUSION:
Every form of unrighteous, ungodly or unholy money must be avoided for the purpose of your destiny in time and your future in eternity
PRAYERS:
Father, thank You for Your Word to us today. Thank You for speaking to us this morning. I receive and believe Your Word and I receive my freedom from any of these vices, in Jesus' Name.
Father, pardon me for where I have erred in times past. I need mercy and forgiveness. Give me a second chance to do it well and to do it right, in Jesus' Name.
Father, I receive the grace never to tamper with what does not belong to me
Father, I come before You today and I receive Your grace, help and mercy to live for You. Help me Lord to live for You and to do Your Will, in Jesus' Name.
Father, I receive the grace to live for You, to do Your Will and to receive Your mercies, in Jesus' Name.
PROPHETIC WORD (PSALM 30:1-5):
God is lifting you this morning; He has not made your foes to rejoice over you
Any death or grave organised for you is hereby cancelled; you shall live and fulfil your days
For Nigeria and for you, weeping may have endured for a night but your joy has just arrived!
The enemies of your life will never rejoice over your life!
Anyone who came with any sort of pain or affliction, that affliction is healed!
Everyone they have dug a grave for, I declare that you are out of that grave! Those who dug the grave or the pit shall take your place in that grave or pit!
Every demonic death sentence pronounced on your life is lifted!
You are about to sing a song of victory! You shall sing shortly!
Nigeria is about to sing new songs of victory!
I don't know for how long you have wept, cried or shed tears, but I am anointed to announce to you, your joy is here right now!
PROPHETIC DECLARATIONS:
Every door that needs to open before you is opened before the end of this week!
God will give you an encounter this week that will change your story!
Every deposit in your body that my Father has not put there is leaving you by fire!
Whatever has put your life under pressure, today, that pressure is over!
Every spell of the pit of hell is returned back to hell!
Everything that is diverting your breakthroughs is arrested!
Flatimes Notice Board: Until you are born again, God ever abiding presence will never be with you. You must be born again to enjoy continuous victory. Please say the displayed prayer below in faith:
Lord Jesus, come into my life. I accept You as my Lord and Personal Saviour. I believe in my heart You died and rose from the dead to save me. Thank You Lord for saving me, in Jesus name Amen.
If you just prayed the prayer of salvation online please send your testimonies and prayer request to info@dunamisgospel.org, +234-803-3144-509, 234-803-320-0320.