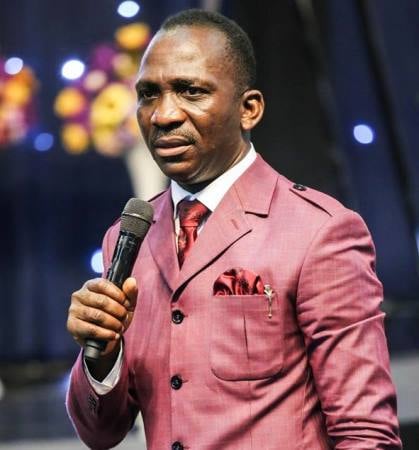 2019 GREATER GLORY FAST GRAND FINALE/BREAKING OF BREAD SERVICE – DAY 21 – 27-01-2019
ANCHOR SCRIPTURE(S): ACTS 20:32
MESSAGE TOPIC: SECRETS OF THE FUTURE
BY: DR. PAUL ENENCHE
SECRETS OF THE FUTURE:
Remain in God's Hand (Acts 20:32)
1a. You don't fear for anything that is in the Hands of God
1b. Nothing can get damaged, destroyed or perish in God's Hand
1c. For as long as you are in God's Hands, He continues to work on you
Remain in God's Word
2a. The Word of God will ward off the winds of life
2b. The Word of God will construct your life and destiny
2c. The Word of God will connect you to your inheritance
Maintain your spiritual fire (Lev. 6:12; Rom. 12:11)
Obey declared action points
Acknowledge every act of Divine Intervention
This year you are not going to see victory, you are going to see TRIUMPH
DIFFERENCE BETWEEN VICTORY AND TRIUMPH:
In victory, blows are multidirectional, in triumph, blows are unidirectional
Triumph refers to winning without struggle
PRAYERS:
Father, I come before You today, I receive the grace to acknowledge every of Your acts and intervention; I receive the grace to hearken to Your Word and do what You want me to do per time.
Father, I receive the grace to maintain my spiritual fire in 2019 and remain in the Word. I receive the grace to remain in Your Hands Lord, in Jesus' Name.
COMMUNION FOCUS:
Every package of Jehovah that is for you in 2019 is released!
Spirit of death, near success syndrome and failure at the edge of breakthrough are arrested!
You shall fulfil you days!
By this communion, you are shifting to the next level. What killed your parents will not kill you!
PROPHETIC DECLARATIONS:
God is changing your story today!
God will use someone you have never met to redirect your life for good!
Every trial you struggled with in previous years, is over forever!
Your spiritual fire this year shall not go low
In 2019, it is not victory you are about to experience, you are experiencing triumph!
Every calculation of the devil unto frustration for you and your loved ones, this celebration wipes it out forever!
During this feasting, every expectation of your heart shall come to pass and every delay in your life is over forever!
Every Word God spoke to you that is yet to come to pass shall come in a hurry!
Every name they called you that is a wrong name, shall be deleted forever!
Embarrassment in your life is over forever!
At this feast, I declare the glory of the Lord shall manifest in your life!
Everyone that came here sick, is walking out healed; everyone that came here bound is walking out free!
Your celebration shall continue
You can READ other MESSAGES from same author by clicking HERE
Flatimes Notice Board: Until you are born again, God ever abiding presence will never be with you. You must be born again to enjoy continuous victory. Please say the displayed prayer below in faith:
Lord Jesus, come into my life. I accept You as my Lord and Personal Saviour. I believe in my heart You died and rose from the dead to save me. Thank You Lord for saving me, in Jesus name Amen.
If you just prayed the prayer of salvation online please send your testimonies and prayer request to contact@faithoyedepo.org, 07026385437 OR 08141320204.