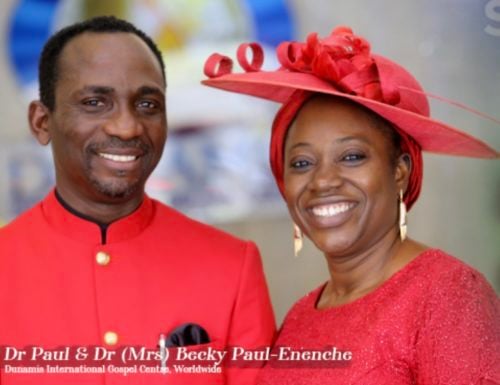 Dunamis Seeds Of Destiny 11 January 2022 Devotional By Dr. Paul Enenche: Testimonies – Boosters Of Faith
Click HERE for Previous MESSAGES by Pastor Paul Enenche
TOPIC: Testimonies – Boosters Of Faith (Seeds Of Destiny 11 January 2022)
SCRIPTURE: And, behold, thy cousin Elisabeth, she hath also conceived a son in her old age: and this is the sixth month with her, who was called barren. For with God nothing shall be impossible. Luke 1:36-37
THOUGHT FOR THE DAY: Testimonies are boosters of faith. Testimonies fertilize and provoke belief.
It has been established that testimonies are boosters of faith. Testimonies fertilize and provoke belief.
Also Read: Open Heaven 11 January 2022 – The Blessings Of Commitment
For example, it was a testimony that settled the mind of Mary when she was told by an angel that as a virgin, she would bring forth a child. Initially, she doubted God's Word and said, "How shall this be?" Then the angel said,
And, behold, thy cousin Elisabeth, she hath also conceived a son in her old age: and this is the sixth month with her, who was called barren. For with God nothing shall be impossible.
Luke 1:36-37.
It was a testimony that settled Mary's confusion.
When David wanted to confront Goliath, Saul told him, "You are not able to confront this man. This is a man of war from his youth. You are just a little boy". Then a testimony from the mouth of David settled Saul's unbelief.
1 Samuel 17:32, 34-36 showed us how David gave the testimony of how he killed a bear and a lion when he was taking care of his father's sheep. And David concluded that Goliath would also be killed like the lion and the bear.
When Saul heard this testimony, he was amazed and seemed to have said, "Ah! You mean you have killed a lion before? Go!" David said, "The God who delivered me from the lion and the bear, He will deliver me from this uncircumcised philistine".
Beloved, I decree that God will give you a testimony that will pull down every Goliath around your life! God will give you a testimony that will change your story and the story of everyone around you, in Jesus' Name.
REMEMBER THIS: Testimonies are boosters of faith. Testimonies fertilize and provoke belief.
ASSIGNMENTS:
Pay attention to the Acts of God (testimonies) shared in church.
Rehearse what God had done in your life and in the lives of others and build your faith.
PRAYER: Lord, thank You for Your good acts and testimonies in my life. I receive the grace to boost my faith from Your wondrous acts, Lord, in Jesus' Name.
FOR FURTHER UNDERSTANDING, GET THIS MESSAGE: KEEPING FAITH ALIVE (PT. 2)
QUOTE: Faith, which is a product of light, is a shield for man. Culled from "15 KINGDOM STRATEGIES FOR SURVIVAL" by Dr Paul Enenche.
DAILY BIBLE READING: Exodus 1-5
REFLECTION: Encounters with God and His Word are the precursors of testimonies. If you don't run out of encounters, you don't run out of testimonies.
PROPHETIC WORD/DECLARATION: The Lord grant you new and explosive testimonies in this season in Jesus' Name.
Today's devotional was written by Pastor Paul Enenche of the Dunamis International Gospel Centre (DIGC), headquartered at Abuja, Nigeria, with Pastor Paul and Becky Enenche, as the Senior Pastors. It is a power-packed arena where God's Presence, Principles and Power are at work for the salvation, healing and restoration of human destinies and dignities
Flatimes Notice Board: Until you are born again, God ever abiding presence will never be with you. You must be born again to enjoy continuous victory. Please say the displayed prayer below in faith:
Lord Jesus, come into my life. I accept You as my Lord and Personal Saviour. I believe in my heart You died and rose from the dead to save me. Thank You Lord for saving me, in Jesus name Amen.
If you just prayed the prayer of salvation online please send your testimonies and prayer request to info@dunamisgospel.org, +234-803-3144-509, 234-803-320-0320.