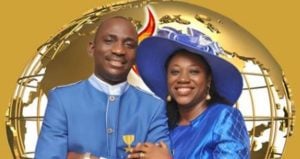 Dunamis Seeds Of Destiny 17 September 2023 Devotional By Dr. Paul Enenche: The Goodness Of Being Good
Click HERE for Previous MESSAGES by Pastor Paul Enenche
TOPIC: The Goodness Of Being Good (Seeds Of Destiny 17 September 2023)
SCRIPTURE: But the fruit of the Spirit is love, joy, peace, longsuffering, gentleness, goodness, faith… Galatians 5:22.
THOUGHT FOR THE DAY: Being good opens doors of breakthroughs and blessings for a person. Goodness and good things follow those who are good.
Seeds Of Destiny For Today 2023 MESSAGE:
I once heard an inspiring story of a young man who was travelling by air. He saw an elderly man who was about to board the same aircraft, and decided to assist the man with his luggage into the aircraft.
The elderly man, being filled with joy could not hold back his appreciation to this young man, "Thank you my son." In fact he was so shocked that he said, "I never knew that there are still such people in this country who know how to respect their elders." Then he decided to ask the young man, "What do you do for a living?"
Also Read: Open Heaven 17 September 2023 – The Most High 2
The young man said, "I am a contractor."
"What type of items do you supply?" the elderly man asked again.
The young man told him the items he usually supplied, and also mentioned the company he normally supplied the items to.
When the young man mentioned the name of the company to the elderly man, the elderly man quickly said, "My son is the Managing Director of the company you just mentioned. Just give him this card." The elderly man stretched forth his hand and gave this young man his business card.
Now, at the time, the company owed the young man about One Hundred Million Naira. When he gave the business card of the elderly man to the Managing Director, all the money owed to him was paid in full without further delay.
What brought this breakthrough and open doors for him was his decision to be good. Being good opens doors of breakthroughs and blessings for a person. Goodness and good things follow those who are good. When you decide to be a real Christian, you cannot lack opportunities.
The challenge we have is, we read the Bible but we do not apply the Word of God in the Bible we read.
REMEMBER THIS: Being good opens the doors of breakthroughs and blessings for a person. Goodness and good things follow those who are good.
ASSIGNMENTS:
Make up your mind to be good.
Render assistance to the people who are in need around you whenever you have the opportunity.
PRAYER: Thank You Lord, for Your Word to me today. I receive the grace to activate the character trait of goodness which is a fruit of the Spirit in me. Help me to show Your goodness to my world, Lord, in Jesus' Name.
FOR FURTHER UNDERSTANDING, GET THIS MESSAGE: CHARACTER AND FAVOUR (PART 1).
QUOTE: Whenever your name is mentioned in your absence, what comes to people's mind – a prostitute, seducing spirit, Jezebel, Judas, thief, liar, proud man, cheat, trickster, or criminal? That which comes to their mind is what determines your destiny. Culled from the book, "21 FOOLISH THINGS PEOPLE DO" by Dr Paul Enenche.
DAILY READING: Hosea 10-12.
AMAZING FACT: Statistics shows significant impact of church attendance on humanity: 68% of church-goers become better after going to church; 69% get their kids helped; 66% get comforted and 81% build their relationship with God.
PROPHETIC DECLARATION/WORD: Grace never to pass by the opportunity to be good be released to you in Jesus' Name.
Today's devotional was written by Pastor Paul Enenche of the Dunamis International Gospel Centre (DIGC), headquartered at Abuja, Nigeria, with Pastor Paul and Becky Enenche, as the Senior Pastors. It is a power-packed arena where God's Presence, Principles and Power are at work for the salvation, healing and restoration of human destinies and dignities.
Flatimes Notice Board: Until you are born again, God ever abiding presence will never be with you. You must be born again to enjoy continuous victory. Please say the displayed prayer below in faith:
Lord Jesus, come into my life. I accept You as my Lord and Personal Saviour. I believe in my heart You died and rose from the dead to save me. Thank You Lord for saving me, in Jesus name Amen.
If you just prayed the prayer of salvation online please send your testimonies and prayer request to info@dunamisgospel.org, +234-803-3144-509, 234-803-320-0320.