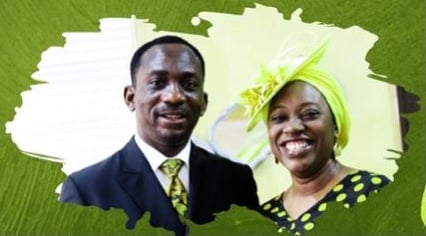 Dunamis' Seeds Of Destiny 2 December 2021 Devotional By Dr. Paul Enenche: A Vibrant Spirit – A Key To A Healthy Life
Click HERE for Previous MESSAGES by Pastor Paul Enenche
TOPIC: A Vibrant Spirit – A Key To A Healthy Life (Seeds Of Destiny 2 December 2021)
A healthy spirit conquers infirmity.
SCRIPTURE: In that day their burden will be lifted from your shoulders, their yoke from your neck; the yoke will be broken because you have grown so fat. Isaiah 10:27 (NIV)
THOUGHT FOR THE DAY: A healthy spirit conquers infirmity.
It has been confirmed that the spirit of a man is what determines how he handles infirmities against his life. A healthy and vibrant spirit conquers infirmity. So, it is the size and vibrancy of your spirit that determines the size of your destiny. It is impossible to have a strong spirit and exist with a weak life and destiny.
Also Read: Open Heaven 2 December 2021 – The Cure For Shame
For instance, when children are about two years old, there is a particular cloth size they can wear. But when they grow older, for instance, to about five years of age, they can no longer wear those clothes anymore no matter how sympathetic they are with them. And no one can force the clothes on their bodies because their body sizes have grown beyond them.
In the same manner, you can grow your spirit to a point where your spirit will outgrow any affliction trying to attack your flesh or life.
This is a more permanent deliverance because if a man of God with a higher anointing prays and destroys the yoke off your life, and the conditions under which that yoke was destroyed are not being sustained, the yoke can still reoccur. But if you outgrow the yoke, even if you are in the midst of one billion witches, you will remain delivered because your spiritual size has changed. So, you can outgrow that cancer, barrenness, HIV, witches and wizards. A vibrant spirit is key to a healthy life.
Beloved, my counsel to you is: fatten up your spirit man by spending time with God in prayer, study of the Word, and listening to "fire-full" messages so you can outgrow afflictions and live a healthy life.
Remember this: A healthy spirit conquers infirmity.
ASSIGNMENT(S):
Do what the counsel on the text says.
Refuse to gratify the flesh.
Company with people who sharpen you spiritually.
FOR FURTHER UNDERSTANDING, GET THIS MESSAGE: OUTGROWING YOUR AFFLICTIONS.
PRAYER: Lord, I receive the grace to build up my spirit man. Let every yoke in my life be broken, Lord, in Jesus' Name.
DAILY BIBLE READING: Ephesians 3-5
QUOTE: One light can handle your night. One revelation can handle your affliction. Culled 15 KINGDOM STRATEGIES FOR SURVIVAL by Dr Paul Enenche.
PROPHETIC DECLARATION/WORD: Every affliction attached to your life is crushed now in Jesus' Name.
REFLECTION: When your internal condition becomes bigger than your external situation, the total liberation is inevitable.
Today's devotional was written by Pastor Paul Enenche of the Dunamis International Gospel Centre (DIGC), headquartered at Abuja, Nigeria, with Pastor Paul and Becky Enenche, as the Senior Pastors. It is a power-packed arena where God's Presence, Principles and Power are at work for the salvation, healing and restoration of human destinies and dignities
Flatimes Notice Board: Until you are born again, God ever abiding presence will never be with you. You must be born again to enjoy continuous victory. Please say the displayed prayer below in faith:
Lord Jesus, come into my life. I accept You as my Lord and Personal Saviour. I believe in my heart You died and rose from the dead to save me. Thank You Lord for saving me, in Jesus name Amen.
If you just prayed the prayer of salvation online please send your testimonies and prayer request to info@dunamisgospel.org, +234-803-3144-509, 234-803-320-0320.