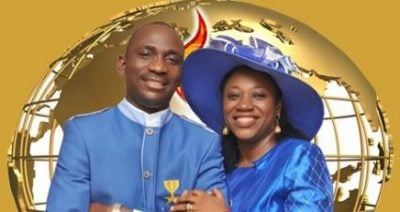 Dunamis' Seeds Of Destiny 20 August 2021 Devotional By Dr. Paul Enenche: Blessed By Imparting Others
Click HERE for Previous MESSAGES by Pastor Paul Enenche
TOPIC: Blessed By Imparting Others (Seeds Of Destiny 20 August 2021)
Your blessing in Kingdom service is amplified by your willingness to carry others along.
SCRIPTURE: Seeing that Abraham shall surely become a great and mighty nation, and all the nations of the earth shall be blessed in him? For I know him, that he will command his children and his household after him, and they shall keep the way of the Lord, to do justice and judgment; that the Lord may bring upon Abraham that which he hath spoken of him. Genesis 18:18-19.
THOUGHT FOR THE DAY: Your blessing in Kingdom service is amplified by your willingness to carry others along.
Scripture confirms that God created us for Himself (Isaiah 43:21). God created us to be dedicated to Him in service. When we serve the Lord, He will bless our bread and our water and take sickness away from us (Exodus 23:25).
Also Read: OPEN HEAVEN 20 AUGUST 2021 – JESUS THE PEACEMAKER
However, there are temptations that hinder effective service. One of such temptations is the temptation not to go far with God. Another temptation is the temptation not to take others along with you in serving God.
Our anchor Scripture makes it clear that your blessing in Kingdom service is amplified by your willingness to carry others along. Abraham was blessed because he commanded his family members, employees and workers to follow the Way of the Lord. This means, the promises of God to you are realisable at the frequency of your impact on others. The promises of God to your life are realisable to the extent to which you are willing to impact the lives of others.
From this Scripture, we understand that God would bring to pass His promises concerning Abraham because he (Abraham) would command his children and his household to follow God in righteousness. God seemed to have said concerning Abraham, "Abraham knows what he is doing. He is changing the lives of his family members and touching the lives of his employees, so I can fulfil my promise in his life."
This means, if you want what God said to you to come to pass, touch the lives of people who don't know God and point them in the direction of God.
Remember this: Your blessing in Kingdom service is amplified by your willingness to carry others along.
ASSIGNMENTS:
Make up your mind to impact the people around you.
Make impact on others your primary reason for living.
PRAYER: Thank You Lord for Your Word to me today. I ask for the grace to impact my world positively, Lord, in Jesus' Name.
FOR FURTHER UNDERSTANDING, GET THIS MESSAGE: TEMPTATIONS THAT HINDER EFFECTIVE SERVICE
QUOTE: Let service to God and His kingdom be the reason why you live. Culled from "15 KINGDOM STRATEGIES FOR SURVIVAL" by Paul Enenche.
DAILY READING: Jeremiah 43-45
REFLECTION: There is no living without giving. Giving out carbon dioxide for plant use continually is a major part of living. Living without giving (Impact) is dying without knowing.
PROPHETIC DECLARATION/WORD: The Lord cause your life to be relevant in the land of the living in Jesus' Name.
Today's devotional was written by Pastor Paul Enenche of the Dunamis International Gospel Centre (DIGC), headquartered at Abuja, Nigeria, with Pastor Paul and Becky Enenche, as the Senior Pastors. It is a power-packed arena where God's Presence, Principles and Power are at work for the salvation, healing and restoration of human destinies and dignities
Flatimes Notice Board: Until you are born again, God ever abiding presence will never be with you. You must be born again to enjoy continuous victory. Please say the displayed prayer below in faith:
Lord Jesus, come into my life. I accept You as my Lord and Personal Saviour. I believe in my heart You died and rose from the dead to save me. Thank You Lord for saving me, in Jesus name Amen.
If you just prayed the prayer of salvation online please send your testimonies and prayer request to info@dunamisgospel.org, +234-803-3144-509, 234-803-320-0320.