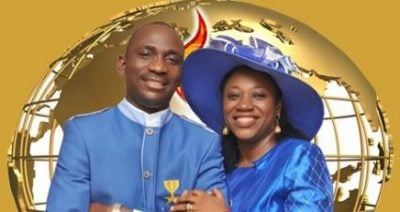 Dunamis' Seeds Of Destiny 21 September 2021 Devotional By Dr. Paul Enenche: Discovering What Is Yours And Fulfilling Your Destiny
Click HERE for Previous MESSAGES by Pastor Paul Enenche
TOPIC: Discovering What Is Yours And Fulfilling Your Destiny (Seeds Of Destiny 21 September 2021)
You need to discover what is yours to fully realize destiny.
SCRIPTURE: And now, brethren, I commend you to God, and to the word of his grace, which is able to build you up, and to give you an inheritance among all them which are sanctified. Acts 20:32
THOUGHT FOR THE DAY: You need to discover what is yours to fully realize destiny.
It has been established that discovery is key to destiny realization. Until your discovery is in place, your destiny may not be in view.
Also Read: Open Heaven 21 September 2021 – The Cost And Blessings Of Knowing Jesus Christ
Now, one area of discovery that leads to destiny realization is the discovery of your purpose.
Another critical discovery is the discovery of what is yours (Acts 20:32).
You need to discover what is yours to fully realize your destiny.
In Scripture, what is yours?
Divine health is yours. Isaiah 53:5 says,
"…and with his stripes we are healed."
Supernatural supply is yours. Deuteronomy 8:18 says,
But thou shalt remember the Lord thy God: for it is he that giveth thee power to get wealth, that he may establish his covenant which he sware unto thy fathers, as it is this day.
Deliverance is yours. You are not meant to be a victim of perennial afflictions and nightmares because Christ has redeemed you from the curse of the law being made a curse for you as it is written curse is everyone that hangeth on the tree that the blessing of Abraham might come upon the gentiles (Galatians 3:13-14).
Divine direction is yours. John 10:2-3 says,
But he that entereth in by the door is the shepherd of the sheep. To him the porter openeth; and the sheep hear his voice: and he calleth his own sheep by name, and leadeth them out.
The Anointing is yours. 1 John 2:20 says,
But ye have an unction from the Holy One, and ye know all things.
Beloved, to maximize your life and destiny, you must discover what is yours in the Bible. My counsel is: take time to study the Scripture. Ask God to open your eyes to see what is yours.
Remember this: You need to discover what is yours to fully realize your destiny.
ASSIGNMENTS:
Make up your mind to study the Scriptures consistently.
See out of Scriptures what is yours and ask God to bring them to pass in your life.
PRAYER: Lord, I ask for the grace to be diligent at studying the Scriptures. Open my eyes to see what is mine from Your Word, Lord, in Jesus' Name.
FOR FURTHER UNDERSTANDING, GET THIS MESSAGE: KEYS TO DESTINY FULFILMENT (PART 1)
QUOTE: Meditate on those scriptures until you arrive at a revelation/illumination. When the Holy Spirit turns on the light, then you say, 'I see,' and you begin to rejoice. That is the excitement of discovery. All of a sudden you realise that you have seen something you never saw before. Culled from "LAWS OF LIFE" (VOL. 1) by Dr Paul Enenche.
DAILY READING: Amos 5-7
REFLECTION: Please know this: (1) The devil does not care what belongs to you for as long as you are not aware (2) What belongs to you is never received by you until they are revealed to you.
PROPHETIC DECLARATION/WORD: The Lord open your eyes to see what belongs to you in God in Jesus' Name.
Today's devotional was written by Pastor Paul Enenche of the Dunamis International Gospel Centre (DIGC), headquartered at Abuja, Nigeria, with Pastor Paul and Becky Enenche, as the Senior Pastors. It is a power-packed arena where God's Presence, Principles and Power are at work for the salvation, healing and restoration of human destinies and dignities
Flatimes Notice Board: Until you are born again, God ever abiding presence will never be with you. You must be born again to enjoy continuous victory. Please say the displayed prayer below in faith:
Lord Jesus, come into my life. I accept You as my Lord and Personal Saviour. I believe in my heart You died and rose from the dead to save me. Thank You Lord for saving me, in Jesus name Amen.
If you just prayed the prayer of salvation online please send your testimonies and prayer request to info@dunamisgospel.org, +234-803-3144-509, 234-803-320-0320.