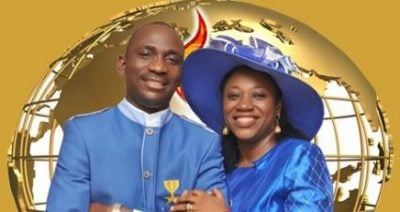 Dunamis Seeds Of Destiny 23 March 2023 Devotional By Dr. Paul Enenche — Revelation: A Key To Dissolving Mysteries
Click HERE for Previous MESSAGES by Pastor Paul Enenche
TOPIC — Revelation: A Key To Dissolving Mysteries (Seeds Of Destiny 23 March 2023)
SCRIPTURE: Arise, shine; for thy light is come, and the glory of the Lord is risen upon thee. For, behold, the darkness shall cover the earth, and gross darkness the people: but the Lord shall arise upon thee, and his glory shall be seen upon thee. Isaiah 60:1-2
THOUGHT FOR THE DAY: Darkness loses its power when light arrives.
Seeds Of Destiny For Today 2023 MESSAGE:
It has been established that the power of the devil is the secrecy of his operations which are shrouded in darkness. But darkness loses its power when light arrives. Light unveils the mysteries of darkness, and the revelation of mysteries is key to dissolving them. You don't beg darkness to leave you when light arrives.
Archbishop Benson Idahosa (of blessed memory) once told a folktale. He said there was once a particular land where the presence of darkness was pervasive and domineering. So, people told the sun that there was a land permanently covered by thick darkness, and that nobody could do anything about it.
Also Read: Seeds Of Destiny 22 March 2023: Living To Praise God
Almost instantly, the sun said, "Let us go there".
When the sun got to the land, it looked for the darkness everywhere but could not find it. Then after three months, the sun asked, "Where is the thick darkness that you people spoke about? I have spent three months in this land and I cannot find it'." Then they told the sun, "For as long as you are here, darkness cannot be here."
Beloved, every form of darkness in your life will lose its power when light arrives.
Today, I curse every appearance and work of darkness in your life. Receive your light and begin to shine, in Jesus' Name.
Remember this: Darkness loses its power when light arrives.
ASSIGNMENTS:
Make up your mind to go for light by all means.
Maintain the habit of studying the Word of God consistently.
PRAYER: Lord, I curse every form of darkness in my life as I go for light. Give me light to handle any form of darkness in all areas of my life, Lord, in Jesus' Name.
FOR FURTHER UNDERSTANDING, GET THIS MESSAGE: UNVEILING AND DISSOLVING MYSTERIES.
QUOTE: Satanic opposition is handled by Divine revelation.
Culled from "15 KINGDOM STRATEGIES FOR SURVIVAL" by Dr Paul Enenche.
DAILY READING: 2 Kings 25-1 Chronicles 2
AMAZING FACT: There are three major parts of the brain: the cerebrum, cerebellum, and brain stem.
PROPHETIC DECLARATION/WORD: Every form of darkness loses it power on your life today, in Jesus' Name.
Also Read: Open Heaven 23 March 2023 – Listen To The Word
Today's devotional was written by Pastor Paul Enenche of the Dunamis International Gospel Centre (DIGC), headquartered at Abuja, Nigeria, with Pastor Paul and Becky Enenche, as the Senior Pastors. It is a power-packed arena where God's Presence, Principles and Power are at work for the salvation, healing and restoration of human destinies and dignities.
Flatimes Notice Board: Until you are born again, God ever abiding presence will never be with you. You must be born again to enjoy continuous victory. Please say the displayed prayer below in faith:
Lord Jesus, come into my life. I accept You as my Lord and Personal Saviour. I believe in my heart You died and rose from the dead to save me. Thank You Lord for saving me, in Jesus name Amen.
If you just prayed the prayer of salvation online please send your testimonies and prayer request to info@dunamisgospel.org, +234-803-3144-509, 234-803-320-0320.