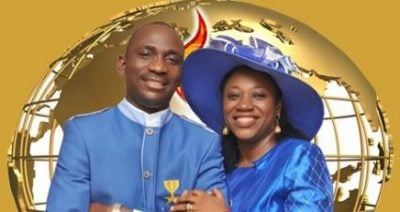 Dunamis' Seeds Of Destiny 23 November 2021 Devotional By Dr. Paul Enenche — Wisdom: A Key To Wealth
Click HERE for Previous MESSAGES by Pastor Paul Enenche
TOPIC – Wisdom: A Key To Wealth (Seeds Of Destiny 23 November 2021)
Anywhere wisdom is on ground, wealth is at home.
SCRIPTURE: So King Solomon exceeded all the kings of the earth for riches and for wisdom.1 Kings 10:23
THOUGHT FOR THE DAY: Anywhere wisdom is on ground, wealth is at home.
Scriptures confirm that there is a relationship between wisdom and wealth. Anywhere wisdom is present, wealth is at home.
Also Read: Open Heaven 23 November 2021 – United In Rebellion?
We can see this in the life of Solomon.
1 Kings 10:23-25 says,
So king Solomon exceeded all the kings of the earth for riches and for wisdom, and all the earth sought to Solomon to hear his wisdom, which God has put in his heart. And they brought every man his present, vessels of silver and vessels of gold and garment and spices, horses and mules a rate year by year.
It is important to know that as people came to Solomon to connect his wisdom, they came with wealth as presents. So, anywhere wisdom is on ground, wealth is at home. Wealth travels in the direction of wisdom. Supernatural wealth will follow supernatural wisdom.
Daniel 2:20 says,
Daniel answered and said blessed be the name of God for ever and ever for wisdom and might are his, and he changeth the time and season, he removeth kings and seteth up kings, he giveth wisdom unto the wise and knowledge unto them that know understanding, he gives wisdom.
God gave Daniel wisdom and what was the outcome of that wisdom?
Daniel 2:48 says,
Then the king made Daniel a great man and gave him many great gifts and made him ruler over the whole province of Babylon and chief of the governor over the wise men of Babylon.
Daniel the wise man ended as Daniel the wealthy man.
Beloved, my counsel is, make up your mind to connect the Wisdom of God. Always ask God for the grace to be like Jesus Who is the Wisdom of God personified (1 Corinthians 1:24).
Remember this: Anywhere wisdom is on ground, wealth is at home.
ASSIGNMENTS:
Go through today's message again prayerfully.
Ask God for a fresh baptism of wisdom.
PRAYER: Thank You Lord for showing me the pathway to wisdom. I ask for a fresh baptism of wisdom, Lord in Jesus' Name.
FOR FURTHER UNDERSTANDING, GET THIS MESSAGE: FINANCIAL WISDOM (PART 1).
QUOTE: To rely on human wisdom is to attempt to carry your problem on your head. That is tantamount to collapse. Culled from "21 FOOLISH THINGS PEOPLE DO" by Dr Paul Enenche.
DAILY READING: 1 Corinthians 11-13
REFLECTION: God the wisest is God the wealthiest. That is why to seek Him first is to attract what others seek. Is He first in your life?
PROPHETIC DECLARATION/WORD: That idea that will permanently terminate all struggles around your life is released for you in Jesus' Name.
Today's devotional was written by Pastor Paul Enenche of the Dunamis International Gospel Centre (DIGC), headquartered at Abuja, Nigeria, with Pastor Paul and Becky Enenche, as the Senior Pastors. It is a power-packed arena where God's Presence, Principles and Power are at work for the salvation, healing and restoration of human destinies and dignities
Flatimes Notice Board: Until you are born again, God ever abiding presence will never be with you. You must be born again to enjoy continuous victory. Please say the displayed prayer below in faith:
Lord Jesus, come into my life. I accept You as my Lord and Personal Saviour. I believe in my heart You died and rose from the dead to save me. Thank You Lord for saving me, in Jesus name Amen.
If you just prayed the prayer of salvation online please send your testimonies and prayer request to info@dunamisgospel.org, +234-803-3144-509, 234-803-320-0320.