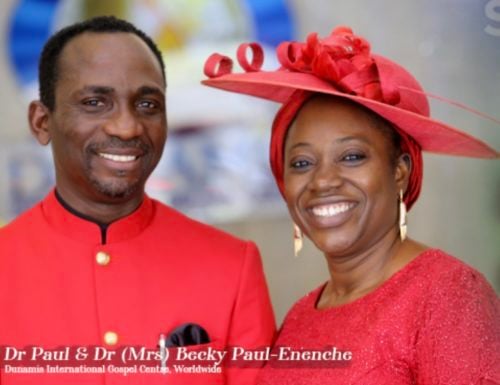 Dunamis Seeds Of Destiny 25 May 2023 Devotional By Dr. Paul Enenche — The Working Faith
Click HERE for Previous MESSAGES by Pastor Paul Enenche
TOPIC: The Working Faith (Seeds Of Destiny 25 May 2023)
SCRIPTURE: For as the body without the spirit is dead, so faith without works is dead also. James 2:26
THOUGHT FOR THE DAY: Faith is activated when you adjust your steps or walk to the Word of God.
Seeds Of Destiny For Today 2023 MESSAGE:
Faith has been established to be the key to possibilities in life. Everything is possible to them that believe.
However, our anchor scripture makes it clear that faith without work is dead. Faith is activated when the Word is put to work.
Faith is activated when you adjust your steps or walk to the Word of God. For example, if you are trusting God for supernatural supplies, you should not sit down in one place and say, "My God shall supply all my needs according to His riches in glory according to Philippians 4:19". No!
Also Read: Open Heaven 25 May 2023 – The Internal Enemy
If you quote only verse nineteen of Philippians Chapter Four, it is not complete; try to know what was said in the preceding verses. Look at this:
Now ye Philippians know also, that in the beginning of the gospel, when I departed from Macedonia, no church communicated with me as concerning giving and receiving, but ye only. For even in Thessalonica ye sent once and again unto my necessity. Not because I desire a gift: but I desire fruit that may abound to your account. But I have all, and abound: I am full, having received of Epaphroditus the things which were sent from you, an odour of a sweet smell, a sacrifice acceptable, well pleasing to God. But my God shall supply all your need according to his riches in glory by Christ Jesus. (Philippians 4:15-19).
Can you see?
You cannot pray and ask God for money if you do not do the things He asks you to do in His Word.
When you do these things, you don't have to beg God to bless you. This is because you are a person of faith who decided to adjust your walk with the Word of God.
My counsel is, do not be like the man waiting for roasted chicken to fly into his mouth without doing anything. Rather, make up your mind to walk in the realm of faith by adjusting your steps to the Word of God.
Remember this: Faith is activated when you adjust your steps or walk to the Word of God.
ASSIGNMENTS:
Go through today's message once again.
Make up your mind to make your faith work by putting God's Word to practice.
PRAYER: Thank You Lord for opening my eyes to see the working faith. I receive Your Help to put my faith to work by obeying Your Word, Lord, in Jesus' Name.
FOR FURTHER UNDERSTANDING, GET THIS MESSAGE: THE PROFITABILITY OF FAITH.
QUOTE: Faith, which is a product of light, is a shield for man.
Culled from "15 KINGDOM STRATEGIES FOR SURVIVAL" by Dr Paul Enenche.
DAILY READING: Psalm 49-51.
AMAZING FACT: When an elephant speaks, it creates a low-pitched rumbling sound that is nearly inaudible but sends vibrations through the earth.
PROPHETIC DECLARATION/WORD: Grace for active faith is released upon you right now in Jesus Name.
Also Read: Seeds Of Destiny 24 May 2023 — Seduction, Satan's Weapon Of Destruction
Today's devotional was written by Pastor Paul Enenche of the Dunamis International Gospel Centre (DIGC), headquartered at Abuja, Nigeria, with Pastor Paul and Becky Enenche, as the Senior Pastors. It is a power-packed arena where God's Presence, Principles and Power are at work for the salvation, healing and restoration of human destinies and dignities.
Flatimes Notice Board: Until you are born again, God ever abiding presence will never be with you. You must be born again to enjoy continuous victory. Please say the displayed prayer below in faith:
Lord Jesus, come into my life. I accept You as my Lord and Personal Saviour. I believe in my heart You died and rose from the dead to save me. Thank You Lord for saving me, in Jesus name Amen.
If you just prayed the prayer of salvation online please send your testimonies and prayer request to info@dunamisgospel.org, +234-803-3144-509, 234-803-320-0320.