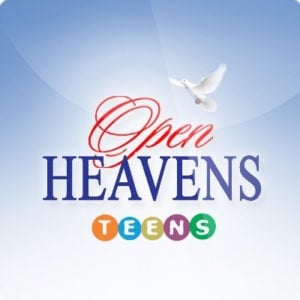 Topic: Service To God [Teens' Open Heavens 25th, March 2018]
Memorise: Knowing that of the Lord ye shall receive the reward of the inheritance: for ye serve the Lord Jesus Christ. Colossians 3:24
Read: Matthew 6:24 (KJV)
24 No man can serve two masters: for either he will hate the one, and love the other; or else he will hold to the one, and despise the other. Ye cannot serve God and mammon.
Bible In One Year: Joshua 14-15, Luke 4:33-44
MESSAGE:
When someone is important to you, you don't give them cheap things, you give them your best. We are so important to God that when He was going to give something for the remission of our sins, He gave us His only begotten Son (John 3:16). When God wanted to know how much Abraham loved Him, He told him to sacrifice his greatest treasure – Isaac.
Do you know that the kind of service you give to God will show Him how important He is to you? If you serve God grudgingly, it means your love for Him is half baked. If you only serve God when it is convenient, or when the service required is not tedious, then you don't really love Him. The most important thing to note is that He has everything we do in record. Our service to God must be whole and pure. We must serve like our life depends on it; in any case, if it wasn't for Him, we wouldn't even be alive. When you get to Sunday school, be the first to take a broom to sweep the floor or wash the toilet. Even outside the Church, whenever you see any opportunity to serve God, quickly do it, for God will always reward our labour of love.
Key Point: Genuine love doesn't exist without service
If you missed yesterday devotional, please click to read "Teen Open Heavens Daily Devotional by Pastor Adeboye'' 
Hymn 7:
1. I am Thine 0 Lord, I have heard Thy voice,
And it told Thy love to me;
But I long to rise in the arms of faith
And be closer drawn to Thee.
Chorus
Draw me nearer, nearer blessed Lord
To the cross where Thou hast died;
Draw me nearer, nearer, nearer blessed Lord,
To Thy precious, bleeding side.
2. Consecrate me now to Thy service, Lord,
By the pow'r of grace divine;
Let my soul look up with a steadfast hope,
And my will be lost in Thine.
3. Oh, the pure delight of a single hour
That before Thy throne I spend,
When I kneel in prayer, and with Thee, my God
I commune as friend with friend!
4. There are depths of love that I cannot know
Till I cross the narrow sea;
There are heights of joy that I may not reach
Till I rest in peace with Thee.
Daily Devotional for Teen's guide was written by Pastor E.A. Adeboye, the General Overseer of the Redeemed Christian Church of God, one of the largest evangelical church in the world and also the President of Christ the Redeemer's Ministries.