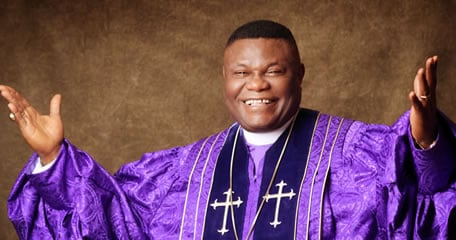 Topic: His Love Never Fails [TREM Devotional 10 July 2020]
Click HERE for Previous MESSAGES by Bishop Mike Okonkwo
"And David said unto Gad, I am in a great strait: let us fall now into the hand of the LORD; for his mercies are great: and let me not fall into the hand of man" 2 Samuel 24:14 (KJV)
The main reason why you must rejoice despite your condition is that God has loved you with an unceasing, everlasting and unconditional love. It is this love that reaches out to us even when we are in sin and brings us out of sin. This love never fails and it does not expire. When you understand this, even when you fall, you don't run away from God. You will rather want to run to Him because His love never fails.
I love David. When he sinned they gave him three options."…Shall seven years of famine come unto thee in thy land? or wilt thou flee three months before thine enemies, while they pursue thee? or that there be three days' pestilence in thy land? Now advise and see what answer I shall return to him that sent me" (2Samuel 24:13 KJV).
David looked at the three options and said: "…let us fall into the hand of the Lord, for His mercies are great…" (NKJV).
He is merciful. I love that! He said I know that I blew it! I messed up! But I'm going to God. I will go back to Him because His steadfast love never ceases and His mercies do not come to an end. He can be angry but it does not last because He has made a covenant with me that He will never leave me nor forsake me.
This is why the ancient Prophet of God, Isaiah declares: "The mountains may move, and the hills may shake, but my kindness will never depart from you. My promise of peace will never change says the Lord who has compassion on you" (Isaiah 54:10 GW)
In other words, when it is all said and done and all others are falling, you will still be standing. When the devil plans evil against you, the Lord will turn it around in your favour.
So, I can sing when it doesn't look like it. I can sing when I'm lying in a hospital bed. Why? Because Jehovah is at work on my behalf. Nothing will ever change the promise of his loving-kindness and mercy.
Further Reading: 2Samuel 24:10-24, Jeremiah 31:3-8
Daily Bible Reading: Morning- Job 41-42; Evening- Acts 16:22-40
Written by Dr. Mike Okonkwo; Is the Presiding Bishop of The Redeemed Evangelical Mission (TREM); a versatile man of God with over 30 years of dedicated service unto the Lord.
Flatimes' Notice Board: Until you are born again, God ever abiding presence will never be with you. You must be born again to enjoy continuous victory. Please say the displayed prayer below in faith:
Lord Jesus, come into my life. I accept You as my Lord and Personal Saviour. I believe in my heart You died and rose from the dead to save me. Thank You Lord for saving me, in Jesus name Amen.
If you just prayed the prayer of salvation online please send your testimonies and prayer request to trem@trem.org, Phone: +234 1 773 8584