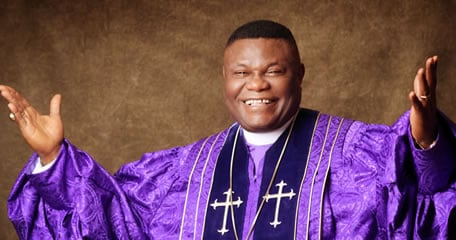 TREM Devotional 11 February 2021 Daily Devotional By Bishop Mike Okonkwo – Don't Attack The Passion Of Other People
Click HERE for Previous MESSAGES by Bishop Mike Okonkwo
Topic: Don't Attack The Passion Of Other People (TREM Devotional 11 February 2021)
"…And Michal the daughter of Saul came out to meet David and said, how glorious was the king of Israel today, who uncovered himself today in the eyes of his handmaids and his servants as one of the vain fellows shamelessly uncovers himself." 2 Samuel 6:20 KJV
Michal was saying to David, "look at how a whole king like you was dancing and disgracing himself. Are you the only one who can dance? Why didn't you just respect yourself?" She was literally attacking his enthusiasm. Some Christians would likewise criticise and ask: "Why are you so interested and passionate about God? Why are you so interested in church activities all the time?" Some people will even tell their spouse to divide their tithe into two and give only a portion. "Why must you give this entire tithe?" They would ask.
Just like some church folks today, Michal got upset because she had lost her zeal and passion. She had lost her drive. She couldn't understand why anyone should be so passionate about God. But thank God for David's response: "And David said unto Michal, it was before the Lord who chose me before thy father and before all his house; to appoint me ruler over the people of the Lord; over Israel, therefore will I play before the Lord; and I will yet be more vile than thus, and will be base in my own sight: and of the maidservants which thou hast spoken of, of them shall I be had in honour" ( 2 Samuel 6:21-22 KJV).
Consequently, "Michal the daughter of Saul had no child unto the day of her death" (2Samuel 6:23 KJV). What does that mean? When you lose your zeal, your drive and your enthusiasm or the fire, something dies around you. It doesn't matter what excuses you have. Michal became the only woman in the Bible whose barrenness was self-imposed because of her attitude. Even when you don't fully understand why someone is praising God, don't criticize the person. Rather, rejoice with them and find out the reason later.
Further Reading: 2 Samuel 6:19-23
Daily Bible Reading: Morning- Leviticus 11-12; Evening- Matthew 26:1-25
Written by Dr. Mike Okonkwo; Is the Presiding Bishop of The Redeemed Evangelical Mission (TREM); a versatile man of God with over 30 years of dedicated service unto the Lord.
Flatimes' Notice Board: Until you are born again, God ever abiding presence will never be with you. You must be born again to enjoy continuous victory. Please say the displayed prayer below in faith:
Lord Jesus, come into my life. I accept You as my Lord and Personal Saviour. I believe in my heart You died and rose from the dead to save me. Thank You Lord for saving me, in Jesus name Amen.
If you just prayed the prayer of salvation online please send your testimonies and prayer request to trem@trem.org, Phone: +234 1 773 8584