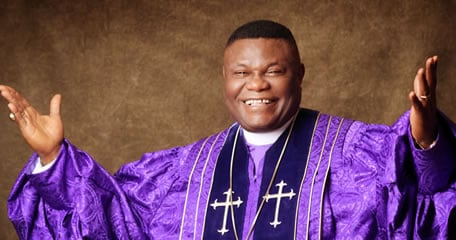 TREM Devotional 12 June 2021 Daily Devotional By Bishop Mike Okonkwo – No Door Can Be Shut Against You
Click HERE for Previous MESSAGES by Bishop Mike Okonkwo
TOPIC: No Door Can Be Shut Against You (TREM Devotional 12 June 2021)
"Then the same day at evening, being the first day of the week, when the doors were shut where the disciples were assembled for fear of the Jews, came Jesus and stood in the midst, and saith unto them, Peace be unto you." John 20:19 KJV
As a believer, you must understand what you are carrying because you are loaded. You are a new creation, a chosen generation, a royal priesthood, a peculiar person and a holy nation. You have been set aside to show forth the praises of Him who has called us out of darkness into His marvelous light. We are the happening people, not the world. And the gates of hell cannot prevail against God and the church.
When Jesus rose from the dead, His disciples were afraid. They shut the door because everyone was afraid of the Jews. But when Jesus came into their midst, He didn't need a door to break in. He came in and said to them: "Peace (Shalom) be unto you." 'Shalom' means nothing broken, nothing missing. When the Jewish man says Shalom to you, he is saying, "All is well." The healing and the prosperity is taken care of. Every pain and every challenge is taken care of. Forget about the mistakes and failures of yesterday; it is a new day. So, enjoy His peace. Jesus showed them the nail prints and they were glad. After that account, Thomas, who was not there initially, came back and doubted what had happened.
Eight days later, Jesus came again, and the door was shut as usual. He didn't wait until the door was opened, He simply passed through the door effortlessly. Child of God, there is no door strong enough that can be shut against you. I don't care how strong it appears. The door of prosperity cannot be shut against you. The door of peace in your home cannot be shut. The door of healing cannot be shut. The door of promotion, business and academic breakthrough cannot be shut against you. You will fulfill your God-ordained destiny because you are in Christ.
FURTHER READING:
John 20:19-31; Isaiah 45:1-6
DAILY BIBLE READING:
Morning – Ezra 3-5;
Evening – John 20
Written by Dr. Mike Okonkwo; Is the Presiding Bishop of The Redeemed Evangelical Mission (TREM); a versatile man of God with over 30 years of dedicated service unto the Lord.
Flatimes' Notice Board: Until you are born again, God ever abiding presence will never be with you. You must be born again to enjoy continuous victory. Please say the displayed prayer below in faith:
Lord Jesus, come into my life. I accept You as my Lord and Personal Saviour. I believe in my heart You died and rose from the dead to save me. Thank You Lord for saving me, in Jesus name Amen.
If you just prayed the prayer of salvation online please send your testimonies and prayer request to trem@trem.org, Phone: +234 1 773 8584