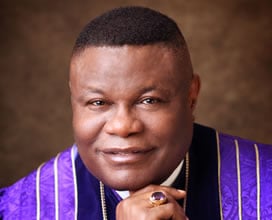 Topic God Is Bigger Than All Your Problems [TREM's Devotional Saturday April 14, 2018]
"And when he was cast out, Pharaoh's daughter took him up, and nourished him for her own son." Acts 7:21 KJV
Recently, I was sharing the Word of God with some people, and I said to them: The people who make cars, they have spare parts. If man can be that wise, then God who created man also has spare parts for any damaged organ in your body. The issue is can you believe? The account of the birth and the miraculous preservation of Moses is documented in Exodus 2. Other parents didn't believe that their children could live. Moses' parents, Amram and Jochebed, saw him as a proper child and believed that God would preserve him. The difference between Moses' parents and other parents was in what they chose to believe. Other children became food for the crocodiles in the Nile, but Moses' parents held on to their baby, and God supernaturally preserved Moses in the camp of the enemy.
Beloved, I don't know what constitutes an enemy to you; God knows how to preserve you in the enemy's camp. He is bigger than cancer. He is bigger than high blood pressure and low blood pressure. He is bigger than all your problems.
God's people, the Hebrews were slaves in captivity for four hundred years. That was long enough for them never to believe anything again. If you have been in a problem for one year or two, you may become used to it and think it will never change. But Jehovah had spoken that they will come out and at the appropriate time, God raised up Moses and sent him to deliver His people.
Today, I declare an end to your captivity. It does not matter how long it has been; we serve a God whose word can never fail. You will not die of sickness or disease. Whatever the enemy has fashioned, it is coming to an end now. God is not a man that He should lie, neither is He the son of man that He should repent if He has said it, He will bring it to pass.
Further Reading: Exodus 2:1-10, Luke 1:34-37
Daily Bible Reading: Morning- 1 Samuel 25-26; Evening- Luke 12:32-59
"If you missed yesterday devotional click to read "TREM's Daily Devotional by Dr. Mike Okonkwo'' 
Written by Dr. Mike Okonkwo; Is the Presiding Bishop of The Redeemed Evangelical Mission (TREM); a versatile man of God with over 30 years of dedicated service unto the Lord.